PCCs: Public should have power of recall, suggests May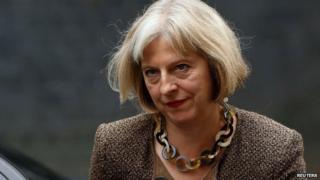 Home Secretary Theresa May has indicated that she is in favour of a "power of recall" for Police and Crime Commissioners.
She told the Police Superintendents' Association conference that there was a "debate to be had" about recall.
Currently, voters can get rid of PCCs only every four years at elections.
Mrs May's comments come amid calls for the South Yorkshire PCC to resign over the controversy surrounding child sexual exploitation in Rotherham.
Last month, Mrs May called for the PCC, Shaun Wright, to stand down.
Before being elected as Commissioner, Mr Wright was Rotherham Council's cabinet member for children's services between 2005 and 2010.
An inquiry released in August revealed that at least 1,400 children had been sexually abused in the town between 1997 and 2013.
Although Mr Wright resigned from Labour - after the party said it would suspend him - he has continued as PCC for South Yorkshire.
He can only be suspended if he is charged with an offence punishable by at least two years in prison.
At a briefing after the PSA conference, Mrs May acknowledged that discussions over the recall of PCCs followed a debate over introducing similar powers in relation to MPs.
Mrs May she said she had been an "early supporter" of the recall of MPs.
'Not the answer'
The Home Secretary also rejected calls for the government to merge police forces in England and Wales.
On Monday, the president of the Police Superintendents' Association, Irene Curtis, said it was "increasingly obvious that we do not need 43 forces".
Mrs May said she would consider a "coherent and comprehensive" plan to merge forces with local support.
But she told the conference that no chief constable or police and crime commissioner had come forward in the past four years with a proposal to merge.
"I applaud the efforts of chief constables and police and crime commissioners to work together so far, and urge them to go further - both between forces and with other emergency services.
"But the evidence is clear - big, top-down restructure is simply not the answer."
In June, Labour said it was "nonsense" to have 43 forces in England and Wales, calling the system the "enemy of efficiency".