US 'is most favoured destination' for UK emigrants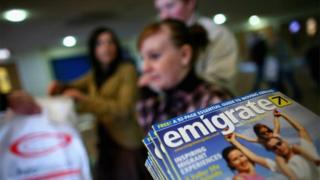 The US is the most popular destination for people moving abroad from the UK, according to an analysis of postal redirections by Royal Mail.
It said it had redirected mail to 138 countries in the past year and 16% of the total had gone to the US.
France was the next most popular destination for people leaving the UK and having their mail redirected.
The Office for National Statistics estimates 316,000 people emigrated from the UK in the 12 months to March 2014.
According to the Royal Mail figures, the US and France were followed by Australia, which had been the most popular destination in 2008, 2009 and 2011.
The next three countries were all in Europe - Ireland, Spain and Germany.
The United Arab Emirates, which appeared in the top 10 every year between 2004 and 2008, dropped away after economic crisis hit the emirate of Dubai.
Singapore is another once-popular destination to have dropped out of the Royal Mail's top 10.
International redirections
Rank
2013/14
2012/13
2011/12
2010/11
2009/10
1
US
US
Australia
US
Australia
2
France
Australia
US
Australia
France
3
Australia
France
France
France
US
4
Ireland
Germany
Germany
Germany
Germany
5
Spain
Spain
Spain
Spain
Spain
6
Germany
Ireland
Ireland
Ireland
Ireland
7
Canada
Canada
Canada
Canada
Canada
8
New Zealand
New Zealand
New Zealand
New Zealand
New Zealand
9
Switzerland
Switzerland
Switzerland
Switzerland
Switzerland
10
Netherlands
Singapore
Singapore
Singapore
Netherlands