What would Scottish independence mean at the UN?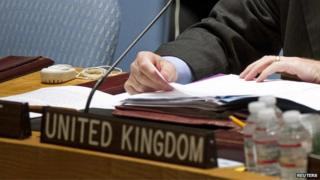 When British diplomats were asked six months ago whether they were making contingency plans for Scottish independence, they almost seemed surprised by the question.
It was not that they did not take it seriously. Rather, it did not appear to be that pressing for a UK mission preoccupied with Syria, Ukraine, Iraq and other global trouble spots.
Back then, the polls suggested the "No" campaign had an unassailable lead. Now, with a week to go before referendum day, John Major, the former British prime minister, has warned that the UK would have to vacate its seat on the United Nations Security Council if the referendum produced a "Yes".
"We would lose our seat at the top table in the UN," he said.
UK diplomats are at pains to point out that Scottish independence would not affect Britain's position at the Security Council, nor its membership of the most exclusive club in world diplomacy, the body's Permanent Five or P5.
The UK would be the successor state. It would continue to wield a veto, a privilege it shares with the United States, France, Russia and China, even if its present nameplate, "United Kingdom", could seem disingenuous and oxymoronic.
Admission formality
There is a clear precedent. Following the break-up of the Soviet Union, which led to the splintering of the one-time superpower into 15 separate nations, Moscow retained its seat.
Even though the UN charter, the organisation's founding deed, refers to the Union of Soviet Socialist Republics, the nameplate was replaced in the Security Council with the Russian Federation.
Boris Yeltsin, the then-president of the Russian Federation, simply wrote to the UN Secretary General and told him that Moscow would take up the seat, with the support of 11 other countries in the Commonwealth of Independent States.
An independent Scotland would not have a vote on the UN Security Council, unless it sought and won election for one of the 10 temporary seats, which are held for two-year terms and do not come with a veto.
First, however, an independent Scotland would have to apply for UN membership. This should be a formality, a simple matter of applying and then being accepted.
All 15 former Soviet republics, for instance, are now UN member states. South Sudan, the world's newest country, offers a more recent precedent. It became a member of the UN within days of achieving independence in 2011.
UK diplomats, citing the experience of South Sudan, do not envisage any problems. Admission to the UN is far less complicated than the European Union or Nato membership process.
Yet as Kosovo has shown, membership is not automatic. After declaring independence from Serbia in 2008, Kosovo was recognised by 108 of 193 UN member states.
But Russia and China, using their veto-wielding powers, have blocked its membership of the UN. However, UK diplomats point out that Kosovo's independence was disputed. The vote would make Scotland's clear cut.
No imminent change
Ireland also had problems in joining the United Nations. The Soviet Union blocked its membership until 1955, partly because of Dublin's neutrality during World War II.
But it is unlikely that Scotland would face any opposition. China's Prime Minister Li Keqiang said he preferred a "united United Kingdom", speaking alongside David Cameron at a press conference in July,
But UK diplomats do no envisage it standing in the way of an independent Scotland, even though Beijing is worried about ethnic separatism within its own borders and sets great store in territorial integrity.
Independence would not lead to any diminution of British power at the United Nations, according to UN expert Thomas Weiss.
"There's not a worry for Whitehall," he says. As for Edinburgh? "Seems Scotland's voice will be non-existent," he reckons.
If Scotland voted "Yes", there would be no immediate change. Negotiations hammering out the details of independence would take at least 18 months.
Partly for that reason, there is still no contingency planning underway in the skyscraper that houses the UK mission in New York.