Double child abuse agony for Rochdale family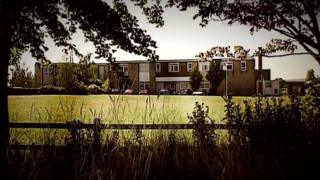 Two children from one family were sexually abused in separate paedophile scandals in Rochdale the BBC has found.
A boy was sexually assaulted at Knowl View School and a decade later his sister was groomed for sex by a gang of Asian men in the town.
Their mother only learned from the BBC that her son, who died recently, had been a victim.
She said she did not think it was a coincidence that both abuse scandals happened in the same town.
BBC Radio 4's File on 4 programme discovered the link while investigating Knowl View, a school for boys with special educational needs.
The former Rochdale MP Cyril Smith sexually assaulted young boys at the residential school.
The programme was shown a list of children who were at Knowl View during the 1990s.
The surname of one boy stood out because it matched the name of a girl who was sexually exploited by Asian men in Rochdale more than 10 years later.
The girl, Tessa, not her real name, was already known to the BBC.
Last year, she took part in a documentary where she explained how the men took her, and other young girls, to flats where they were locked up and raped.
Nine men were jailed for the crimes in 2012 but Tessa was not asked to be a witness.
She said that meant some of the men who abused her never stood trial in court.
When File on 4 got back in touch with Tessa's mother, she confirmed her son had been a pupil at Knowl View.
She said she was worried he had been abused but could not be certain because he was reluctant to talk about his time there.
However, a former acting head of care at Knowl View, who blew the whistle about what was happening, told the BBC that Callum, not his real name, was the victim of at least one attack.
Martin Digan was on night duty when an alarm went off in a dormitory.
"Callum was sitting weeping on the couch in the common room… and he couldn't get his words out," he said.
"One of the other children who I won't name, he said, 'Sir, Sir there was a man on our unit," and Callum said, "Yeah he put his hands under the covers, he was in my bed," and then he broke down."
Mr Digan said the boys he spoke to all gave the same description of the intruder.
It fitted the chairman of governors, Harry Wild.
The police were called but Mr Wild was never questioned.
Harry Wild died in 2001, an old man.
Callum died at the age of 20. He suffered heart and lung failure. There was morphine in his blood system.
The police say they did make contact with Callum after he left Knowl View but he told them he had not been a victim of abuse.
Last week, File on 4 told Callum's mother the story of what had happened to her son.
"I don't know what to think," she said.
"I never heard nothing like that. It's too much. It should all have come out a lot earlier than what it has done.
"It's too late for my son. Perhaps he wouldn't have been in so much trouble, he wouldn't be where he is now if he had the support."
She says she does not think it is a coincidence that the two child abuse scandals in which first her son, then her daughter, became victims, happened in the same town or that in both cases, her children were not helped and that some of the men were not prosecuted.
"Yeah it's the same thing isn't it - Rochdale Council thinking about themselves all of the time. It's a shambles, it's absolutely pathetic. It's no good hiding stuff because I've got no trust in any authority whatsoever; the police, social services, nobody."
Failure to end abuse
In the early 1990s, three official reports were written about sexual abuse at the school but they were not made public.
Greater Manchester Police is investigating whether there was a criminal cover-up.
Current MP for Rochdale Simon Danczuk is now questioning whether the failure to end the abuse at Knowl View led to a climate in which the subsequent child sex ring in Rochdale was allowed to emerge.
"I've often wondered whether there's a connection between the two and whether the culture was influenced by the fact that Smith's abuse had been ignored by people in the town and whether that impacted on the Rochdale grooming scandal.
"Knowl View links the historic to the recent is the point I'm making... it's a continuum of abuse by individuals, but also by groups because Knowl View is about groups of abusers coming together just like the grooming gangs that have been involved with the girls."
Rochdale Council refused to comment on whether it had failed the family on both occasions.
But in a statement it said it was committed to a thorough and transparent review to bring to justice perpetrators of abuse or anyone found to have covered up events.
Listen to the full report on File on 4 on BBC Radio 4 on Tuesday, 16 September at 20:00 BST and Sunday, 21 September at 17:00 BST. Listen again via the Radio 4 website or the File on 4 download.