Thousands sexually abused in prison, study suggests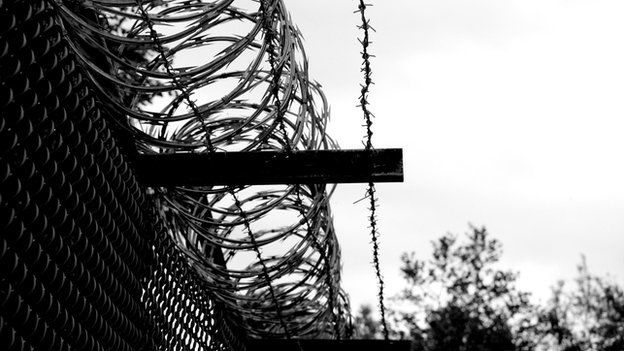 Thousands of inmates are sexually assaulted in prisons in England and Wales each year, research suggests.
A commission set up by the Howard League for Penal Reform estimated that every year 1-5% of inmates - as many as 4,000 people - could be raped or abused.
The league urged the government to do more to tackle sexual abuse in jails.
Ministers say a review into jail sexual abuse is taking place as part of a wider study into increased violence.
Official Ministry of Justice figures said there were 170 sexual assaults in prison last year.
But the commission's paper suggests sexual abuse in prisons is a hidden problem that is largely unreported.
It says it was unable to interview current prisoners after being blocked by the Ministry of Justice.
Instead, its conclusions are based on briefings from experts, data from Her Majesty's Inspectorate of Prisons, and interviews with former prisoners conducted 10 years ago.
The commission's own research with former prisoners will be the subject of a report next year.
The research mainly concentrated on the male prison population.
According to the commission, some prisoners were coerced into sex to settle debts, while others used it as a way of paying for drugs.
It found that gay and transgender prisoners are more at risk than heterosexual prisoners and suggested that investigations are slow and police are not routinely informed about assaults.
Frances Crook, chief executive of the Howard League for Penal Reform, said: "Prisons are meant to be safe places where the law is enforced, not places where people are under threat of sexual violence and rape."
The commission said the frequency of sexual assaults in prisons appeared to be similar to the level in the United States. Research by the US Bureau of Justice and suggests 2-4% of prisoners in 2013 had been the victim of some form of sexual abuse.
Chris Sheffield, commission chairman, said: "There is an urgent need to determine the nature and scale of sexual abuse in prisons in England and Wales.
"The issue is treated seriously in the US, where the government has taken major steps to recognise the problem and prevent abuse."
Prisons minister Andrew Selous said reported incidents of sexual assault in prison were rare but were investigated and referred to police.
He added: "We continue to work hard to understand the reasons for the increase in assaults, including sexual assaults, and we are comprehensively reviewing how we manage violence, including sexual violence, in prisons and working with the police and CPS to introduce a new approach to the investigation of crime."
Related Internet Links
The BBC is not responsible for the content of external sites.