Scottish independence issues at-a-glance: Defence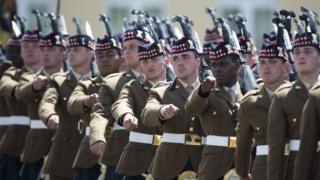 What powers does the Scottish Parliament currently have and how might they change with independence or further devolution?
This page summarises the implications of the referendum for defence - one of seven different themes. The others are: The economy and currency,energy oil and gas, pensions and welfare, citizenship and immigration, EU membership and broadcasting.
More in-depth analysis on defence.
---
At present
Scotland has no powers over defence policy or spending.
According to the Ministry of Defence, UK defence presence in Scotland currently consists of:
11,100 Regular Armed Forces (7.5% of the UK total)
4,000 MOD civilian personnel (7.6% of the UK total),
Over 50 MOD sites throughout Scotland.
2,200 trained Volunteer Reserves (10% of the UK total).
11,500 Cadets (8.5% of the UK total).
Faslane is home to the Trident nuclear submarine. The defence industry and military ship-building facilities also employ significant numbers of people in Scotland.
---
After a Yes vote
The Scottish government would force Westminster to remove Trident as part of plans for a "nuclear-free" Scotland.
It says it would have an annual defence budget of £2.5bn and at the point of independence it would have a land force of 3,500 troops and 1,200 reservists.
The Scottish defence force would also comprise:
Two frigates from the Royal Navy's current fleet, four mine counter measure vessels and two offshore patrol vessels.
Additional patrol boats and support ships requiring 2,000 personnel and 200 reservists.
A quick reaction alert squadron of 12 Typhoon jets and a tactical transport squadron of six Hercules aircraft and a helicopter squadron, requiring 2,000 personnel and 300 reservists.
The aim would be to have a total force of 15,000 personnel with 5,000 reservists across the three services after 10 years of independence.
---
After a No vote
Better Together believes the UK makes everyone "safer together". It adds that independence would risk defence industry jobs. It has also highlighted advice that it would be difficult to separate one army into two.
Labour says: "Defence should remain a reserved matter."
The Conservatives say: "We strongly believe [defence is one of] the policy areas that glue our Union together and are best provided at UK-level."
The Lib Dems say: "A federal UK government would retain major areas of competency, including foreign and defence affairs."
---
The policies under independence are taken from the Scottish government's White Paper on independence. Yes Scotland and other Yes campaigners do not necessarily share these positions.
Where Better Together has a stance, this has been cited. The separate Labour, Conservative and Lib Dem proposals are taken from their respective reports on devolution.
Both sides' preferred policies would be subject to negotiations following the referendum.
The Scottish government has said that following a Yes vote, arrangements would be in place for full independence from 24 March 2016.
The Better Together campaign has said that following a No vote draft legislation on devolution would be introduced by the end of January 2015.
---
---