Thailand deaths: Police search for man after killings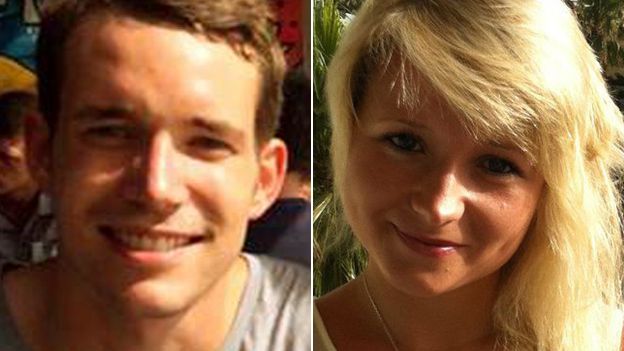 Police in Thailand are continuing to search for a man they want to speak to in connection with the deaths of two British tourists.
The bodies of David Miller, 24, from Jersey, and Hannah Witheridge, 23, from Norfolk, were found on a beach on the island of Koh Tao on Monday.
They had suffered serious injuries, and a garden hoe believed to have been used in the attack was found nearby.
The UK Foreign Office said staff from Bangkok were travelling to Koh Tao.
The bodies were found close to the beach-side bungalows where the pair had been staying.
Police said they wanted to speak to a man, possibly a friend of the victims, who is thought to have left the island on Monday morning.
They are also questioning tourists, and hotel and bar owners. Boats were earlier blocked from leaving the island.
They said they had yet to identify a motive or suspect in the killing of the tourists, who had arrived in Thailand last month.
Officers have been reviewing closed circuit TV footage from nearby restaurants, hotels and shops.
There was a beach party on Sunday night about 100 metres from where the bodies were found, according to local media.
Reports suggest that Ms Witheridge, who was originally from Great Yarmouth, and Mr Miller had met recently on the island.
Small island covering 21 sq km north of Koh Samui and Koh Phangan in Gulf of Thailand
Population of about 2,100 and visited by between 400,000 and 500,000 travellers per year
Popular with backpackers and divers
Quieter and less developed than neighbouring islands which are known for nightlife and beach parties
The Foreign Office said in a statement: "We are aware of the death of two British nationals on 15 September on the island of Koh Tao in the Gulf of Thailand.
"The embassy are urgently seeking information from the local authorities and consular staff stand ready to provide assistance to friends and family at this tragic time."
A spokeswoman for the Tourism Authority of Thailand (TAT) in London said the incident was "out of character" for an island that was "much loved for its quaint atmosphere".
"We understand this is an isolated incident," she said.
"We have limited details on the circumstances at this time and are waiting for further information following the initial stages of the police investigation. Our thoughts and condolences are with the families and friends affected by the news."
BBC south-east Asia correspondent Jonathan Head said the authorities were likely to move quickly to investigate the deaths to maintain confidence in a tourist industry which accounts for around a 10th of Thailand's GDP, and which has been hit hard by recent political turmoil.
Thailand attracts more than 850,000 British and Irish tourists each year.
Some 11 British nationals have been murdered in the country since 2009, according to the Foreign Office.
Official FCO advice warns that Western tourists have been victims of "vicious, unprovoked attacks by gangs" on the nearby island of Koh Phangan but there are no specific warnings for Koh Tao, which is a popular tourist destination.
TAT said Koh Tao and other beach destinations in Thailand remained safe for tourists.
Related Internet Links
The BBC is not responsible for the content of external sites.