Islamic State and Rotherham abuse 'fuelling far right'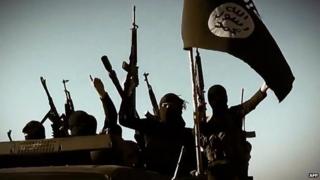 Islamic State extremism and the Rotherham abuse scandal are fuelling a far-right backlash in the UK, one of the Home Office's most senior advisers on right-wing extremism has said.
The anonymous worker claims the government has overlooked the problem amid its focus on tackling jihadists.
The Home Office says it is working to prevent "all forms of extremism".
But the Institute for Strategic Dialogue claims the government must engage more with the far right.
'Worrying period'
The senior adviser works directly with right-wing extremists as part of the Home Office's Prevent strategy, and asked to remain anonymous to protect his personal safety. He says the government has underestimated the threat posed by the far right in Britain.
"This is one of the most worrying periods in right-wing extremism, given the growth in right-wing groups and the recent news events which are making them more angry," he explains.
The adviser, who has 27 years of field work experience, says he has spoken to several individuals in recent weeks who have displayed real anger at the ongoing conflict in the Middle East - where Islamic State (IS) militants control large swathes of territory in Iraq and Syria.
Membership to far-right groups, he adds, is on the rise. He claims that since last year, at least five new groups have formed, often having branched off from existing groups to follow a stronger ideology and comprising over 100 members.
He says one group member told him he would like to implement death camps in the UK.
"When I asked who he would like to put in the death camps, he just listed everyone that he didn't see as white British," he added.
'Increased' racial hate crime
Data compiled by Tell Mama UK, which monitors anti-Islamic hatred, reflects fears that the actions of IS are provoking Islamophobia in the UK.
In August it received 219 reports of abusive incidents targeted at Muslims in England - the same month as the IS beheading of US journalist James Foley.
This was almost double the 112 incidents recorded in January, though the organisation stresses its figures only show a glimpse of the full picture, with many victims of racial hate crime afraid to report abuse.
Even though Tell Mama UK's data was collected anecdotally - the Muslim Council of Britain supports its claim that there has been an escalation in violence against individuals.
The findings of an inquiry into child sex abuse in Rotherham between 1997 and 2013 are also a cause of increased hate crime towards Muslims, Tell Mama UK suggests.
The report, commissioned by Rotherham Borough Council, found at least 1,400 children were sexually exploited by criminal gangs predominantly of Pakistani heritage.
In August, when it was made public, over a quarter of anti-Muslim hate crimes (58) recorded by Tell Mama UK were said to be provoked by the scandal.
Last weekend an English Defence League (EDL) rally took place in Rotherham in response to the revelations revealed by the inquiry.
Groups 'encourage active role'
One former member of a neo-Nazi group, who wants to remain anonymous, agrees that current domestic and global events present the "ideal recruitment ground" for right-wing extremist groups.
He says once young members sign up groups urge them to take on an active role.
"There are books that are available on the internet that you're encouraged to read," he says, "you'll then be questioned on your knowledge."
Asked what the books are about, he replies: "How to disable somebody and how to basically kill people."
He says he originally joined the neo-Nazi movement as he felt the British population was being ignored.
"Coming from a working class background, I was very conscious of money being allocated to other areas [by the government]," he explains.
He says he no longer holds racist views.
Success abroad
The Institute for Strategic Dialogue (ISD) think tank, which specialises in research on right-wing extremism, is calling on the UK government to change its approach to tackling far-right movements.
It has published research which, it says, suggests Britain must find new ways to engage with such groups.
"When individuals are entrenched in these movements there is very little support or option for them to leave," its research and policy manager on far-right extremism and intolerance, Vidhya Ramalingam, claims.
"We've seen there's evidence from programmes that exist in Sweden, Germany and Scandinavia, that actually if you offer a space for individuals to turn to when they are doubting their ideology, we can prevent violence from happening in the first place," she adds.
Former Labour cabinet minister Hazel Blears told the Today programme that encouraging people to integrate more would help combat extremism of all kinds.
"What really needs to be done, is what we've tried to do for a long time - certainly I have - and that's to bring people together. If you bring people together, it's a lot more difficult to hate each other if you're sharing day-to-day lives.
ISD reports that since 2000 the Exit programme in Germany has helped over 500 individuals leave the extreme right, with a 97% success rate.
The Exit-Fryshuset programme in Sweden has achieved 94% success with 133 people, says ISD.
The Home Office insists much of its work on radicalisation specifically addresses far-right extremism, with a quarter of the 2,000 cases it has dealt with since April 2012 being concerned with the problem.
It says its Prevent strategy "tackles all forms of extremism, including from the far right".