Dave Lee Travis assault accusers telling truth - prosecution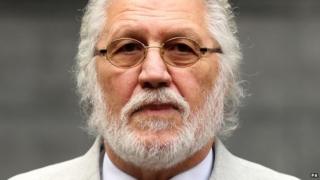 Jurors in the trial of veteran DJ Dave Lee Travis have been urged to look at "the unlikelihood of coincidence" when considering their verdict against him.
Mr Travis denies two counts of indecent assault and one of sexual assault.
In her closing speech at Southwark Crown Court, prosecutor Miranda Moore said being "charming and cuddly" was no defence for Mr Travis - being tried under his real name David Griffin.
She insisted his accusers were telling the truth - with no exaggerations.
"It's like, of all the Radio 1 DJs in all the world, why did they all have to pick on him?"
She said his accusers were not motivated by financial reward, fame or fortune.
"Just simply telling it as it is, no exaggeration, no embellishment; they honestly feel it should be dealt with now, even if they couldn't bring themselves to have it dealt with then," she said.
Mr Travis, 69, from Aylesbury in Buckinghamshire, faces a retrial on two counts - indecent assault of a woman between November 1990 and January 1991, and sexual assault on a different woman between June and November 2008.
A jury was unable to reach verdicts on the charges at a trial earlier this year.
Mr Travis denies an additional count of indecent assault alleged to have taken place in January 1995.
'Defence very clear'
The charges against him relate to three women, and the court has heard allegations relating to two others.
Ms Moore said if the defence in the case had been that "things were different then", the court would then be looking at "the rights and wrongs of that culture".
"Allegations of unwanted sexual behaviour are now treated very differently," she said.
"You're not being asked to consider whether this defendant thought it was all right, because he's made his defence very clear to you - these women... they've made lying allegations against him, 'I did not intentionally put my hands on any of them, they are lying'.
"And that's the area that we are working in, black and white, there's no grey."
Ms Moore added: "This man can be charming and cuddly and huggy and friendly and compassionate. That's not a defence.
"Can he also feel he has the right to put his hands on women when they don't want it, that's the question you have to decide."
The defendant was a DJ on the BBC's Radio 1 until 1993 and was a regular host of Top of the Pops.
Earlier in the trial, a Top of the Pops dancer told the court she felt "safe" with Mr Travis.
Dee Dee Wilde, from dance group Pan's People, had described Mr Travis as a "loveable big bear of a man".
The hearing was adjourned until Wednesday, when the closing speech for the defence is to be made.