Dave Lee Travis jury 'should not be swayed' by other cases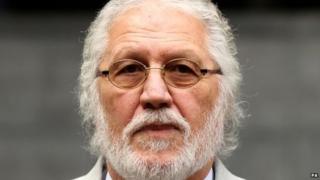 Jurors in the trial of Dave Lee Travis should not be swayed in their decision by other recent cases involving celebrities, the judge has said.
Judge Anthony Leonard's comments followed the closing speech of defence barrister Stephen Vullo QC, who said Mr Travis was "the perfect gentleman".
The prosecution argued the former BBC DJ's "charming and cuddly" persona was no defence for his actions.
Mr Travis denies two counts of indecent assault and one of sexual assault.
In his summing up, Judge Leonard told the jury at Southwark Crown Court in London to ignore any allegations that had been made against other media celebrities since revelations about Jimmy Savile came to light.
"There is no guilt or innocence by association," he said.
'Tactile'
Earlier, defending barrister Mr Vullo said the former BBC broadcaster was nothing like the "sleazy, predatory, opportunist" he has been accused of being.
He reminded jurors that all three of the former BBC Radio 1 DJ's personal assistants, who worked for him at different stages over a combined period of 20 years, had wanted to give evidence to defend him.
"They described him as warm, friendly, tactile," Mr Vullo said.
The defendant, who was a DJ on BBC Radio 1 until 1993, was also a regular host of Top of the Pops.
Mr Vullo asked the jury, made up of six men and six women, to recall the evidence given by Dee Dee Wilde, who was a member of the dance troupe Pan's People and also often appeared with Mr Travis on Top of the Pops.
'Loveable'
He said she had known him at the height of his fame and referred to him as a "gentleman" who never did anything to alarm her fellow dancers. She described him as a "loveable big bear of a man".
The DJ's barrister also said Mr Travis had sold his house to fund his defence and was now surviving on "dwindling resources".
The 69-year-old, from Aylesbury, Buckinghamshire is being retried on two counts - indecent assault of a woman between November 1990 and January 1991, and sexual assault of another complainant between June and November 2008.
A jury was unable to reach verdicts on those charges at a trial earlier this year.
Mr Travis, who is on trial under his real name, David Griffin, is also accused of a further indecent assault alleged to have taken place in January 1995.
He denies all the charges, which relate to three women.
On Tuesday the court heard the closing speech from the prosecution.
The case continues.