Alan Henning: Muslim call for release of UK hostage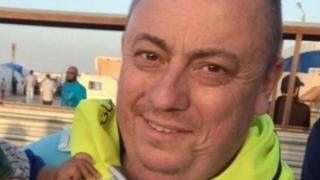 British Muslim leaders have called for the immediate release of Alan Henning, the UK hostage threatened with death by Islamic State (IS) extremists in Syria.
In a letter in the Independent, they described IS as un-Islamic fanatics and urged them to show mercy on Mr Henning.
The 47-year-old was a volunteer on an aid convoy in December 2013 when he was seized just after crossing into Syria.
The letter said anyone undertaking a humanitarian act should be held in the highest esteem.
This was in contrast, they said, to the "senseless kidnapping, murder and now despicable threats to Mr Henning at the hands of so-called 'Muslims'".
They said such actions could not be justified anywhere in the Koran or Islamic tradition, and the "fanatics" were not acting as Muslims but perpetrating the worst crimes against humanity.
Help civilians
More than 100 British Muslim imams, organisations and individuals wrote to express their "horror and revulsion" at the "senseless murder" of Briton David Haines and the threat to the life of Mr Henning.
They said Mr Henning, from Eccles in Salford and who works as a taxi driver, was a volunteer who travelled to Syria to help civilians.
The letter cited verses from the Koran against killing, and appealed to the kidnappers to release the married father of two immediately.
Its signatories insisted that British Muslim communities would continue to do everything within their power to prevent more young men or women getting caught up in Islamic State's "poisonous ideology".
BBC religious affairs correspondent Caroline Wyatt says the letter is a clear sign that many leading British Muslims are keen to distance themselves from the form of Islamist ideology being used by IS fighters to justify their actions.
Video footage of Mr Henning - filmed before he was captured in Syria - has shown him describing his trips to the country.
In the video, Mr Henning said: "It's all worthwhile when you see what is needed, as you get where it needs to go. That makes it all worthwhile."
A friend of Mr Henning from the convoy, who was with him when he was captured, has also appealed to IS to release him.
Majid Freeman, 26, of Leicester, urged the militants to "spare him" and "let him come home".
He also said Mr Henning was known as Gadget or Gadge among his fellow convoy members for his technical skills, and that Mr Henning had told him he felt "at home" in the company of the other aid volunteers.
"I remember at some point something broke down in our ambulance," Mr Freeman said. "The radio wasn't working properly. Immediately he volunteered himself and he fixed the radio.
"Gadget was out on a mission. He not only wanted to help the Syrian people, he wanted to help everyone in whatever way he could help."
Foreign Secretary Philip Hammond has said rescue options are limited as it is not known where Mr Henning is being held.
A video showing the killing of British aid worker Mr Haines was recently released by IS. His death followed that of two US hostages which were also shown in videos.