Dave Lee Travis jury retires to consider verdict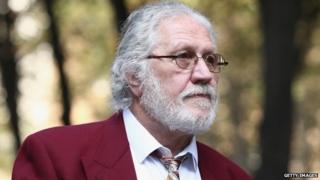 The jury in the sex abuse trial of the former BBC broadcaster Dave Lee Travis has retired to consider its verdicts.
Mr Travis is being retried on one count of indecent assault of a woman between November 1990 and January 1991, and sexual assault of another complainant between June and November 2008.
A jury was unable to reach verdicts on those charges at an earlier trial.
The DJ is also accused of a further indecent assault alleged to have taken place in 1995. He denies all charges.
Mr Travis is on trial under his real name David Griffin, and all three charges against him relate to women.
On Wednesday Judge Anthony Leonard told the jury - made up of six women and six men - at London's Southwark Crown Court not to be swayed in their decision by other recent cases involving celebrities.
'Perfect gentleman'
He said there was "no guilt or innocence by association".
The defendant from Aylesbury in Buckinghamshire was a DJ on BBC Radio 1 until 1993, and was also a regular host of Top of the Pops.
Prosecutors claimed Mr Travis was an "opportunist", but his barrister Stephen Vullo QC said defence witnesses had described him as a "perfect gentleman".
One of the allegations for which he is being retried dates back to the 1990s when he was starring in a pantomime.
Prosecutors claim Mr Travis put his hands inside the trousers of a woman, who was working on the production of Aladdin.
The second allegation on which he is being retried relates to an allegation that the DJ groped a journalist's chest when she went to interview him at his home in 2008.
The additional count of indecent assault is alleged to have taken place on 17 January 1995 and involved a young woman working on the BBC's Mrs Merton Show.
Prosecutors said Mr Travis approached the woman, who was smoking in a corridor, and put his hands on her chest for about 10 to 15 seconds.