Qatar returns detained human rights researchers to UK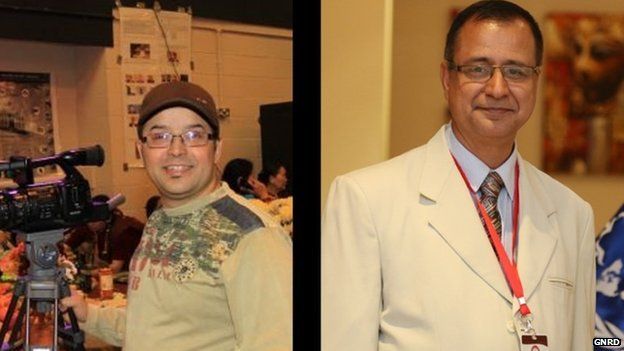 Two Britons detained in Qatar after researching the treatment of migrant workers have flown back to the UK.
Krishna Upadhyaya and Gundev Ghimire were held for nine days and then had to wait another 11 days for permission to leave the Gulf state.
Qatar said the men, reported missed on 31 August, had been detained for "violating the law of the land".
They had been working for the Norway-based Global Network for Rights and Development (GNRD).
Mr Upadhyaya, a researcher and Mr Ghimire, a photographer, had been carrying out research for a report on human rights in Qatar, which is due to host the football World Cup in 2022.
The pair flew into Heathrow Airport late on Friday.
Mr Upadhyaya told the BBC on Saturday they had been detained at Doha airport while trying to fly home and kept in solitary confinement for nine days.
He said they had to wait for a further 11 days for their cases to be closed.
The men, both of Nepalese origin, had been in Qatar since 27 August, GNRD, a Norway-based non-governmental organisation, said.
Human rights groups have accused the Qatari authorities of employing foreign labourers in "slave-like" conditions.
In May, Qatar moved to change controversial laws on foreign workers that tied migrant workers to a single employer.
Human rights campaigners said the sponsorship system was akin to modern-day slavery.