Hannah Witheridge's family 'broken' by murder in Thailand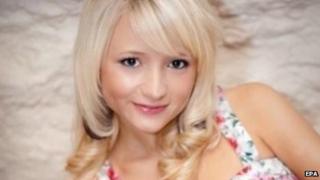 The family of murdered British tourist Hannah Witheridge say they are "broken" by her death.
In a statement, they said they visited Bangkok earlier this week and had now returned to the UK with her body.
Ms Witheridge, 23, and fellow Briton David Miller, 24, were found dead on the Thai island of Koh Tao on Monday.
The BBC's Jonathan Head says Thai police suspect two different samples of DNA taken from Ms Witheridge's body are from two Asian men.
The Witheridge family said in their statement: "As a family we feel enormous relief to have Hannah back at home where she belongs.
"We continue to work closely with officers to assist in the investigation and bring those responsible to justice.
"Our family is broken and require time to grieve in private - as do Hannah's many friends."
They added that with the support of "fantastic" police family liaison officers, they will make further statements "when we feel able".
Police in Thailand has also said they are investigating new evidence suggesting the murders may have taken place because of "sexual jealousy".
Police Colonel Kissana Phathanacharoen said: "We have discovered fresh evidence which could lead to a new suspect who may have had a relationship or one night stand with Hannah or one of her friends or David the night before they were killed.
"We have asked the Metropolitan Police to go back and make enquiries of Hannah's friends on this matter.
"No lines of inquiry can be ruled out and we believe these crimes could have been motivated by sexual jealousy.
"Police have been made aware of reports that Hannah and David had a fight in a bar with a Thai man before they were killed, but cannot confirm if they are true."
According to post-mortem examinations, Ms Witheridge, from Great Yarmouth, Norfolk, died from head wounds while Mr Miller, from Jersey, was killed by severe blows to the head and drowning.
A bloodstained garden hoe, believed to be the murder weapon, was found nearby.
Thai police are offering a reward of about £4,000 for information leading to arrests, and some 150 officers have been deployed on the island.
Senior police officials met with Ms Witheridge's family during their trip to Bangkok.