Rail passengers 'dissatisfied' with delay information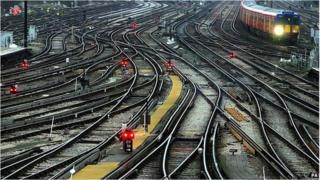 Nearly a third of rail passengers are unhappy with the way their train company deals with delays or cancellations, a survey has suggested.
Passenger Focus's survey said rail customers found Twitter had better information than station staff.
The passenger watchdog carried out the survey of 1,020 passengers who had a delay in the previous seven days for the Office of Rail Regulation (ORR).
ORR said improvements had been made by rail companies, but more were needed.
The results of the passenger survey were sent to the train companies.
Less than half (43%) of those delayed were given a reason, with poor weather or signalling problems topping the list when an explanation was offered.
About a third (34%) of delayed passengers felt the train company handled the disruption well, mainly because they were frequently updated or it was a short delay.
Some 29% were dissatisfied by the way their train company managed disruption, while the remainder had no opinion.
One customer who completed the survey said: "I'd have liked an announcement from a human, rather than numbers on a board."
Another said: "Just the facts - the live departure information is often just a joke."
Passenger Focus chief executive Anthony Smith said: "Despite improvements, it is clear that many passengers are still dissatisfied with the way the rail industry deals with delays.
"Passengers need information as quickly as possible - ideally before leaving home. Only 17% knew about the disruption before arriving at the station.
"Passengers now receive information from a range of sources, so train companies must ensure that staff at stations and on trains are ahead of the information game."
Action plan
He also said passengers needed frank and honest messages that painted a realistic picture of the problems as they happened.
"For instance, a fallen tree across a railway is just that, not an 'obstruction'. Passengers told the full reasons for the delay are likely to be less frustrated than those who are not."
Michael Roberts, director general of the Rail Delivery Group which represents Network Rail and rail operators, said: "The regulator has welcomed the industry's commitment to improving communications with passengers during severe weather.
"The industry will shortly produce a revised plan that includes more prominent service information on websites, earlier notification of any changes to the following day's timetable and measures to boost awareness of how to claim compensation for delayed journeys."
ORR's director of economic regulation John Larkinson said: "Improvements have been made in the provision of information to passengers through the introduction of phone apps, better Twitter updates and by giving free access to real-time information to app developers.
"However, more needs to be done.
"Once the industry has published its full action plan with clear dates and responsibilities for delivery, ORR will closely monitor the rail industry's progress against this - to ensure passengers are empowered with the right information during disruption."