Second video of British hostage John Cantlie released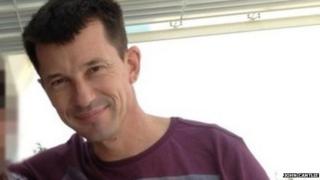 A second video has been released showing British journalist John Cantlie, who is being held hostage by Islamic State (IS) militants.
It comes less than a week after his first appearance on screen following his kidnapping in Syria in 2012.
The release of the video showing Mr Cantlie came as the US and its allies launched the first air strikes against IS in Syria.
IS has killed three Western hostages and has threatened to kill another.
On Monday, the US and several Arab allies launched the first air strikes against the militants in Syria. UK forces are not involved but the government says it has not ruled itself out.
'Fighting zeal'
An experienced journalist and photographer, this is Mr Cantlie's second time being held captive in Syria. Having been kidnapped in July 2012 and handcuffed and blindfolded for a week, he escaped with the help from the Free Syrian Army.
He returned to Syria towards the end of 2012 and it was during this trip that his second kidnap occurred.
The video, which lasts for almost six minutes, follows a similar pattern to the first video featuring the journalist.
It is introduced with the title "Lend Me Your Ears and Messages From The British Detainee John Cantlie: Episode 1".
Dressed in an orange outfit like other IS hostages seen in videos, Mr Cantlie repeated that he had been abandoned by his government.
Reading from a pre-prepared script, he also said Western governments "were caught napping by the sheer speed of the Islamic State's growth" and they have underestimated "the strength and fighting zeal of the opponent".
"Not since Vietnam have we witnessed such a potential mess in the making," he says.
Islamic State - also known as Isis or Isil - has taken control of large areas of Syria and Iraq and declared a caliphate.
The group has beheaded three Western hostages since August - US journalists James Foley and Steven Sotloff, and British aid worker David Haines. Their deaths were all filmed and posted online.
In the latest video showing the killing of Mr Haines, the militants threatened to kill Alan Henning, a taxi driver. Mr Henning, from Eccles in Salford, was seized while on an aid mission to Syria in December.