Historical letter 'first to suggest tipping'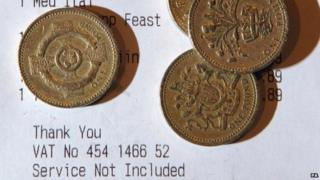 A British Library researcher claims to have discovered the first person to suggest the practice of adding service charges to hotel and restaurant bills.
Rona Levin said it was put forward in 1768 in a letter to The London Magazine or Gentleman's Monthly Intelligencer.
Signed RW, it said he was fed up with being badgered for tips by the entire staff every time he stopped at an inn.
Ms Levin is the editor of a book of two centuries of human interest stories from the library's newspaper archive.
RW's letter complained about what he called the "licensed beggars" who lined up between a gentleman and his carriage to bawl out "with an insolent tone: 'Pray remember the ostler, pray remember the waiter and so on'" - and scurrilously abused anyone who refused to pay a tip.
The problem, he wrote, was that inns did not pay their staff a proper wage.
'Much debated'
His solution: "Let the landlords pay their servants sufficient wages and at the bottom of the bill write Attendance, leaving a blank for the person to give what he pleases. For every traveller would prefer the method of having one person to pay."
Ms Levin said the uncovering of the letter showed just how little had changed in almost 250 years.
"I was fascinated when I came across this letter because it shows that the issue of tipping or paying a fair wage was debated as much then, all those years ago, as it is today," she said.
"The traveller who wrote the letter was clearly fed up and spent some time thinking how to improve working conditions for staff at inns while providing a better experience for guests.
"Yet most of us will never have stopped to consider how or when the custom of tipping started, let alone whose idea it first was to add tips to bills."
The book, Comic, Curious & Quirky: News Stories From Centuries Past, is published by the British Library.