Islamic State air strikes in Iraq 'would be legal' - No 10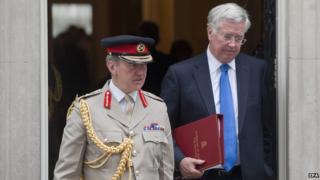 The Iraqi government's request for support in its fight with Islamic State (IS) means UK air strikes in the country would be legal, Number 10 says.
A summary of the government's position said the request "provides a clear and unequivocal legal basis for deployment of UK forces".
On Friday MPs will be asked to vote for a motion backing strikes against IS militants in Iraq - but not in Syria.
Meanwhile some 250 anti-war protesters have gathered outside Downing Street.
The proposed motion comes after a third night of US-led air strikes which targeted IS-controlled oil refineries in Syria.
'World must unite'
Five civilians and 14 IS - sometimes known as Isil or Isis - fighters were killed in the east of the country, according to UK-based activist group Syrian Observatory for Human Rights.
IS has been condemned in the West for its persecution of religious minorities and tactics including on-camera beheadings.
The jihadi group claims to have established an Islamic caliphate in parts of Iraq and Syria after making rapid advances through the region earlier this summer.
Prime Minister David Cameron told the UN on Wednesday IS was an "evil against which the whole world must unite".
'Law clear'
Number 10 said UK forces could legally join the bombing of targets in Iraq after the Iraqi minister of foreign affairs wrote to the UN seeking international assistance.
In a note setting out its legal position ahead of the Commons vote Number 10 said: "International law is clear that the use of force in international relations is prohibited, subject to limited exceptions.
"However, international law is equally clear that this prohibition does not apply to the use of military force by one state on the territory of another if the territorial state so requests or consents.
"It is clear in this case that Iraq has consented to the use of military force to defend itself against Isil in Iraq."
It also stated that a further Commons vote would be necessary if UK involvement was to spread to Syria.
The motion to be put before MPs on Friday makes clear the government "will not deploy UK troops in ground combat operations".
Speaking on Thursday evening, Foreign Secretary Philip Hammond said IS posed a "serious threat to Britain's national security".
But he said any fighting on the ground should be carried by regional forces "primarily from Iraq itself".
"There will be a ground operation - it's just that we will not be providing ground combat troops."
The UK's involvement would not extend to Syria, the foreign secretary said.
But he added: "We haven't ruled out anything for the future. We'll have to see how the struggle against Isil goes."
'Jihadi John'
In recent months the group has released videos showing the killing of two American journalists and British aid worker David Haines.
Mr Haines' 17-year-old daughter Bethany said IS needed "eradicating".
"They can't be doing this to people and get away with it," she told ITV News.
"If air strikes or ground force... is what it takes, that's what it takes."
In the US, the FBI director James Comey said the bureau has identified a man referred to in the British press as "Jihadi John".
The suspected militant - who the FBI is not naming at present - is thought to have appeared in IS videos.
Mr Hammond was speaking after cabinet members were briefed at Number 10 by the Chief of the Defence Staff General Sir Nicholas Houghton and other security figures.
There had been strong support for military action at the meeting, according to David Cameron's official spokesman.
The Liberal Democrats and Labour are expected to back military action in the Commons vote on Friday.
'Increase hatred'
But Madeleine Moon, a Labour member of the Defence Select Committee said there were "far too many" unanswered questions.
"Once we get in there, once we start... what are we going to commit ourselves to? Does it just stop with air strikes?" she told Radio 4's PM programme.
"I get no sense of any thought as to a strategic plan and mission, with an exit strategy. All I get is, 'Right, we're going to bomb'."
Anti-war campaigners the Stop the War coalition, who gathered outside Downing Street, said bombing Iraq would "increase hatred of the West" as they issued a statement setting out why it opposes military action.
On Wednesday the prime minister used a speech at the UN to outline the government's case for launching air strikes against IS.
In reference to the US-led invasion of Iraq in 2003, he said: "We must not allow past mistakes to become an excuse for indifference or inaction."
---
Full text of Friday's Commons motion
That this House:
Condemns the barbaric acts of ISIL against the peoples of Iraq including the Sunni, Shia, Kurds, Christians and Yazidi and the humanitarian crisis this is causing;
Recognises the clear threat ISIL pose to the territorial integrity of Iraq and the request from the government of Iraq for military support from the international community and the specific request to the UK government for such support;
Further recognises the threat ISIL poses to wider international security and the UK directly through its sponsorship of terrorist attacks and its murder of a British hostage;
Acknowledges the broad coalition contributing to military support of the government of Iraq, including countries throughout the Middle East;
Further acknowledges the request of the government of Iraq for international support to defend itself against the threat ISIL poses to Iraq and its citizens, and the clear legal basis that this provides for action in Iraq;
Notes that this motion does not endorse UK air strikes in Syria as part of this campaign, and any proposal to do so would be subject to a separate vote in Parliament;
Accordingly supports Her Majesty's Government, working with allies, in supporting the government of Iraq in protecting civilians and restoring its territorial integrity, including the use of UK air strikes to support Iraqi, including Kurdish, security forces' efforts against ISIL in Iraq;
Notes that Her Majesty's Government will not deploy UK troops in ground combat operations;
Offers its wholehearted support to the men and women of Her Majesty's armed forces.
---