Trevor Brooks accused of Terrorism Act breaches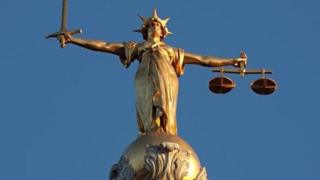 A man has appeared in court accused of breaching requirements imposed on him under the Counter-Terrorism Act.
Trevor Brooks, 39, from Clapton, east London, who is also known as Abu Izzadeen, was convicted of terrorism offences in 2008.
He is charged with failing to notify police of an address change and giving false information about where he lived.
Mr Brooks was remanded in custody by Westminster Magistrates' Court and will appear at the Old Bailey on 3 October.
He was one of 11 men held as part of a Metropolitan Police inquiry into Islamist-related terrorism allegations.
Motorway arrests
Eight of the men, aged between 22 and 51, were arrested in London on Thursday and have been bailed to return to police stations in the capital in January. They include the radical preacher Anjem Choudary, 47.
The other two men are aged 33 and 42 and were arrested in the early hours of Friday on the M6 motorway near Rugby. They have also been released on bail until January.
Scotland Yard said the 33-year-old man arrested on the M6 was held on suspicion of assisting an offender.
All the other men were arrested on suspicion of being a member of a proscribed organisation, supporting a proscribed organisation and encouraging terrorism.