Seann Walsh confuses Hertford and Hereford for comedy gig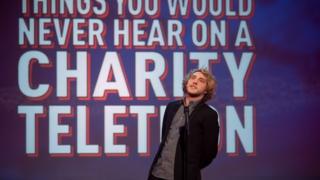 Comedian Seann Walsh was forced to cancel a gig in Hertford after he mistakenly travelled to the city of Hereford 150 miles away.
The 27-year-old, who has appeared on TV programmes including Mock The Week, had to scrap the show at short notice once he realised his mistake.
Walsh took to Twitter to apologise to fans on Saturday, saying: "I am sorry. Please feel free to tweet me abuse!"
He promised to reschedule the show in Hertford at a later date.
The comedian also posted a number of messages about his attempt to get home to London.
He wrote: "It is now taking me over four hours to get home. The gig was 45 mins away. I deserve this," before adding: "If it makes you feel any better my train home is cancelled."
The comic, who was nominated for the Comedy Award at the Edinburgh Fringe last year, also tweeted a photo of a vending machine, with a message saying: "Just having a look at the menu for dinner."
He then tweeted: "Still enough time to let you know I am now further away from my home than I was when I was in HerEford."
Hertford theatre, where he had been due to play, tweeted: "@seannwalsh IS CANCELLED TONIGHT! (He went to Hereford!) Refund from 01992531500 tonight or during the week, We hope he'll make here 1day."