UK 'Islamic State recruiter' held in Bangladesh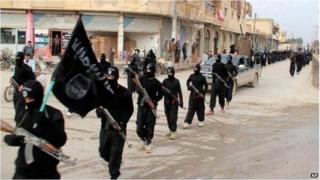 Police in Bangladesh have arrested a British man on suspicion of trying to recruit people for Islamic State (IS).
Officers said the man, who they believe to be of Bangladeshi origin, had spent time in Syria and had belonged to militant group al-Nusra Front.
They said his plan was to recruit fighters in Bangladesh and rejoin IS or other militants in the Middle East.
The UK Foreign Office said it was aware a Briton had been arrested and said it was arranging "consular access".
Combat missions
Masudur Rahman, deputy commissioner of Dhaka police in Bangladesh, said officers had "learned" of the suspect's intention to recruit fighters for IS.
"We seized his passport," he said. "It says that he spent some time in Syria.
"He also confessed that he joined the jihad with the al-Nusra Front from last September to December.
"His plan was to join any Islamic jihad in the Middle East."
IS militants have taken control of large parts Iraq and Syria in recent months, aiming to create a caliphate governed by strict Islamic law.
A coalition led by the US is carrying out air strikes against IS in Iraq and Syria.
On Friday, the UK Parliament voted by 524 votes to 43 to take military action against IS in Iraq, and RAF Tornado jets have begun flying combat missions over the country.