What is extreme?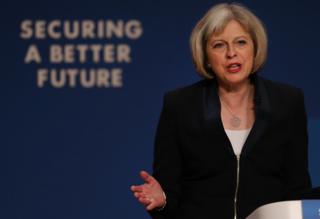 Home Secretary Theresa May has proposed a significant shift in government policy, expanding the counter-terrorism strategy to include fighting what she describes as "the full spectrum of extremism".
The Conservatives have long-argued that they have sought to tackle both violent and non-violent extremism, but existing legislation and the courts have always limited restrictions to those organisations or individuals who it can be demonstrated are concerned in terrorism.
Now Mrs May is proposing a future Tory government introduce banning orders and extremist disruption orders for activities that clear a much lower bar. The model "will reflect the existing proscription system" for terrorist groups, but the criteria will be different.
So what would constitute an extremist group? There are three kinds of activity listed as reasons for designating an organisation or an individual as extremist:
spreading, inciting, promoting or justifying hatred on the grounds of disability, gender, race, religion, sexual orientation and/or transgender identity
proposing to overthrow democracy
members of the public, or a section of it, will be harmed
Harm is defined as:
at risk from acts of violence or other criminal acts
at risk from public disorder
at risk from harassment, alarm or distress
a threat to the functioning of democracy
This is a very broad definition of extremism. Any group or individual whose activities puts a section of society "at risk" of alarm or distress could fall under its scope.
Might a trade union whose actions alarm or distress employers be regarded as an extremist organisation? What about a newspaper that publishes stories or images that alarm or distress a section of the public? Or a political group that argues against gay marriage or for the abolition of the monarchy?
Of course, the Conservatives deny the proposals are designed to do anything of the sort. They say that a "decision to ban a group would be subject to an immediate review by the High Court to ensure it was not obviously flawed".
But they also say that "the strategy will aim to undermine and eliminate extremism in all its forms: not just Islamist extremism but neo-Nazism and other forms of extremism too". The difficulty with such a wide legal definition of what is extreme is that it leaves the door open for attacks on anyone whose views differ from those of the home secretary.
The proposal may be eye-catching, but it faces significant challenges. The legal establishment is likely to raise more than an eye-brow at the notion that "a risk of alarm and distress" is enough to impose court orders banning or limiting the activities of groups and individuals.
The senior human rights lawyer Hugh Tomlinson believes the plans would be massively costly as well as legally problematic. "Wide-ranging banning orders of this sort which involve huge restrictions on freedom of speech and political expression are always going to be legally extremely difficult to justify," he says.
"Even without the European Convention on Human Rights, English judges would view this kind of measure with the gravest suspicion."
As well as legal objections, there are already concerns about the principles at stake. Senior Conservatives from the libertarian wing of the party have expressed disquiet at plans they fear limit the right to free speech, and civil liberty organisations argue that the measures are an affront to the long-standing traditions of this country.
Perhaps the most important consideration is whether such ideas would actually work. There must be a risk that banning groups or restricting the activities of individuals simply makes them more attractive rather than less.
However, the home secretary remains convinced that only by extending banning orders beyond existing terrorism legislation can we deal with those that "preach hatred on our streets".
"It is important if we are going to defeat the ideology that lies behind terrorist activities and deal with extremism of all sorts that we take extra powers," she told the BBC today. "There is a thread between extremism and violence and we need to be able to deal with it to keep people safe and secure."
There is a long way to go before these proposals become the law of the land. They are promises for a future Conservative manifesto and would only become government policy in the event of a Tory victory at the general election in 2015. They will inevitably undergo fierce internal party debate and wider criticism.
That said, May, with the backing of the prime minister, expresses herself determined to do just that.