David Cameron: 'Britons who join Islamic State are enemies of UK'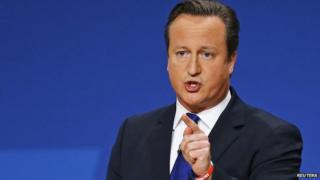 Britons who try to travel to Syria or Iraq to join Islamic State (IS) militants will be treated as "an enemy of the UK", David Cameron has said.
The PM said the government would use "everything at our disposal" to prevent people from joining jihadists.
Speaking as RAF jets took part in fresh strikes in Iraq, he said there was no "walk-on-by option" for the UK when it came to dealing with IS.
The MoD said initial reports suggested the latest strikes were "successful".
A spokesman said two Tornados flying over north-west Iraq had assisted Kurdish ground forces fighting militants.
Overnight, Tornados also fired missiles at an armed pick-up truck and transport vehicle west of Baghdad.
Brimstone missiles
During his speech at the Conservative Party conference in Birmingham, where he also unveiled other proposals, Mr Cameron said some people think we can "opt out" of the conflict in Iraq, but said: "We can't."
He also directly addressed Britons thinking of taking up arms with militants in the Middle East.
"To those who have had all the advantages of being brought up in Britain, but who want to go and fight, let me say this - if you try and travel to Syria or Iraq, we will use everything at our disposal to stop you. Taking away your passport, prosecuting, convicting, imprisoning.
"And even if you're there already, we may even prevent you from coming back. You have declared your allegiance. You are an enemy of the UK and you should expect to be treated as such," Mr Cameron said.
UK forces have now directly engaged IS three times since Parliament authorised involvement in the international military campaign last week.
On Tuesday, the MoD said Tornados had been on an "armed reconnaissance mission" when they were asked to help Kurdish troops in north-west Iraq.
The jets identified an IS heavy weapon position, which the MoD said was firing on Kurdish forces.
A guided bomb was used to attack the position, while a missile targeted an armed pick-up truck in the same area, it said.
BBC defence correspondent Jonathan Beale said RAF Tornados had taken off from their base RAF Akrotiri, in Cyprus, for further missions this morning.
Our correspondent said it was "still too early to judge how much of a difference they are making".
'We must respond'
Defence Secretary Michael Fallon told the Conservative Party conference that RAF planes had been conducting daily flights over Iraq since Parliament's vote last week.
He said "no responsible government" could ignore the challenge presented by IS.
"We didn't choose this fight, but for the security of our nation, we must respond," he said.
Foreign Secretary Philip Hammond told the conference that the "twisted ideology" of IS "can and must be driven out of Iraq".
"It is right that Britain shoulders its share of the burden in the great coalition of nations that has come together to defeat the menace of Isil, and we should be proud that we are doing so," he said.
He said the UK's strategy in the region was "comprehensive", including humanitarian aid, arming Kurdish fighters and cutting off IS funding.
Appeal for mercy
About 40 nations have joined a coalition to tackle the militant group, which has seized large parts of Iraq and Syria in the past few months.
IS, which has established a self-declared "caliphate" in the territory it controls, is also holding a number of hostages.
Last month, in a video showing the beheading of British hostage David Haines, the militants said the next to be killed may be Alan Henning - a taxi driver from Eccles who had been delivering aid to Syria when he was captured last year.
Mr Henning's wife, Barbara, has again appealed to IS leaders to show mercy.