Rebekah Brooks drops phone-hacking defence costs application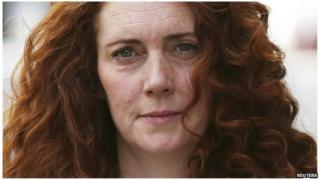 Former News of the World editor Rebekah Brooks has dropped her legal bid to recover defence costs for the eight-month-long phone-hacking trial.
She was cleared of charges including conspiracy to hack voicemails.
Her barrister told the Old Bailey any costs she recovered would automatically have gone to her ex-employer News UK because it had paid her legal costs.
She dropped her application after News UK said it did not want to accept any costs "from public funds".
'Personal expenses'
Robert Smith QC, for News UK, told the court it had paid the legal costs for Mrs Brooks and other defendants in the trial.
Although there was no agreement that their costs should be repaid to the company, Mr Smith said that "such an obligation is implied".
But he told the court that News UK had "not felt willing to engage in an exercise" that would potentially re-examine the background to the hacking trial.
"The end result is that News UK would not seek or accept any part of any order by way of costs from central funds, public funds or however one wishes to express it," Mr Smith said.
In a statement released later, News UK said: "Given the certainty that our costs would continue to increase disproportionately, we've taken the pragmatic view not to seek repayment from the defendants for legal costs borne by the company."
Jonathan Laidlaw QC, for Mrs Brooks, told the court she had "already indicated that she was not seeking and did not wish to recover her personal expenses for the trial from the public purse".
He said that, as News UK had paid her legal costs, "any monies which would have been the subject of a claims case order would have automatically gone to News UK to compensate them for the financial support they were good enough to afford to her during her trial".
He added: "I formally withdraw the application on her behalf."
The BBC's Gaetan Portal said News UK's 11th hour decision not to pursue the claim was made after News UK and the judge exchanged legal papers.
News UK has asked that all papers connected to the case should remain secret.
Mr Justice Saunders has said he will make a decision on that and make a statement in open court on Thursday.
Coulson retrial
In June, Mrs Brooks was found not guilty of conspiracy to hack voicemails, two counts of conspiracy to pay public officials and two counts of conspiracy to pervert the course of justice.
Her husband, Charlie Brooks, Mrs Brooks' former personal assistant Cheryl Carter, and News International's former head of security Mark Hanna were also cleared of conspiracy to pervert the course of justice.
And former News of the World managing editor Stuart Kuttner was found not guilty of conspiracy to hack phones.
An application for about £600,000 in legal costs for Charlie Brooks - which was not paid by News UK - will go ahead.
And an application by Mr Kuttner, for about £135,000 in costs relating to the early days of the police investigation, will also go ahead.
Mrs Brooks' successor as editor of the News of the World, Andy Coulson, was found guilty at the trial of a charge of conspiracy to intercept voicemails and was jailed for 18 months.
Coulson and the paper's former royal editor, Clive Goodman, face a retrial on a charge of buying royal telephone directories from police officers.