Army eases rules on hand and neck tattoos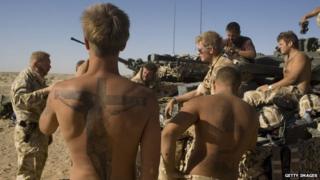 The Army has eased its rules on hand and neck tattoos, the Ministry of Defence has said.
It says tattoos are now allowed on hands and the back of the neck, but not on the face or any neck areas that could be visible on passport photos.
Army regulations had limited tattoos to those that are covered by a shirt - ie below the collar and above the cuff.
A Ministry of Defence spokesman said visible tattoos have no "adverse impact on operational effectiveness".
"Tattoos have become more acceptable in society over the last decade and, in recent years, there has been an increasing number of personnel with tattoos on visible areas.", the MoD said.
The US army relaxed its policy on hand and neck tattoos in 2006.
Cost cutting
The British changes follow a review of tattoo policy earlier this year by Capita, the private company that now runs army recruitment and suggested the proposal could help increase numbers of reservist soldiers.
At the time, Dawn Marriott-Sims, Capita's chief operating officer, told MPs the rules were "a barrier to a significant number of our target population".
The changes come during a recruitment drive to increase reservist numbers as the regular Army reduces in size from 102,000 to 82,000.
By boosting the number of reservists from 19,000 to 30,000, the Army hopes to offset cuts.
But in 2013-14, the Army rejected 336 applications because of offensive or inappropriately placed tattoos, a Freedom of Information request showed.
The Army's website currently says that if a tattoo is "offensive, obscene or racist it will prevent you from joining the Army".
It states that small tattoos "that aren't offensive in any way" are not normally a problem, depending on where they are on the body and how visible they are.
If a tattoo depicts a sexual acts, violence or drugs, it will breach Army rules.
One in five Britons now has a tattoo, according to research cited by the British Association of Dermatologists in 2012.