RAF Tornados bomb Islamic State pickup truck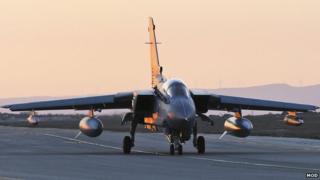 RAF jets have conducted fresh strikes on an Islamic State (IS) vehicle in Iraq, the Ministry of Defence has said.
It said two Tornados had carried out a "successful" operation against an armed IS pickup truck overnight.
The strikes were in support of Kurdish fighters on the ground who were advancing on an IS position in north-east Iraq, the MoD said.
RAF jets have been taking part in the international military campaign in Iraq since a vote in Parliament last week.
Confirming the latest sorties, the MoD said the two Tornados had provided "vital air support" to local forces.
It said the Tornados had conducted "a successful precision attack on an armed pickup truck with a Paveway IV guided bomb".
There has been no independent confirmation of the targets.
'Lessons from history'
The military action comes as a United Nations report on the situation in Iraq has revealed a "staggering array" of human rights abuses and violence of an "increasingly sectarian nature".
The report, prepared by the UN's human rights office, revealed evidence of mass executions and abductions of women and girls for use as sex slaves.
About 40 nations are targeting IS, which controls parts of Iraq and Syria.
However, Jonathan Powell, who was chief of staff for former prime minister Tony Blair's, said the UK and other international allies should be seeking talks with the militants, rather than just bombing them.
Speaking to BBC Radio 4's Today programme, he said governments should "learn some of the lessons from history".
"We keep making the same mistakes again and again.
"Every time we meet a new terrorist group we say we will never talk to them and yet we do in the end.
"That kind of channel is what you need to have with all terrorist groups and when you can, you turn that into negotiation," he said.
'Walk-on-by option'
The latest strikes come after two Tornados flying over north-west Iraq had assisted Kurdish ground forces fighting militants on Wednesday.
Tornados also fired missiles at an armed pickup truck and transport vehicle west of Baghdad.
RAF aircraft carried out their first strikes on IS targets in Iraq on Tuesday, attacking a "heavy weapon position" and an armed pickup truck.
On Wednesday, Prime Minister David Cameron said there was no "walk-on-by option" for the UK when it came to dealing with IS.
Mr Cameron said some people think we can "opt out" of the conflict in Iraq, but said: "We can't."