Sun reporter Vince Soodin faces police payment retrial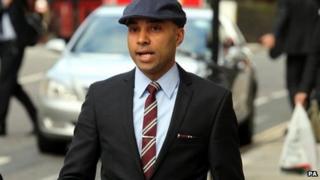 The jury in the trial of a Sun reporter accused of paying a police officer for a tip-off has been discharged after failing to reach a verdict.
Vince Soodin, 39, who denies a charge of conspiring to commit misconduct in a public office will be retried at a later date.
His trial at the Old Bailey had heard a police officer received £500 after contacting the reporter with a story.
Mr Soodin was charged under Operation Elveden.
The operation was set up after the News of the World phone-hacking scandal to look into alleged payments to officials.
The trial had heard Sussex Police Sergeant James Bowes had received payment after he contacted the tabloid about a fox attacking a three-year-old boy at a school in Brighton.
He had told the newspaper in an email he wanted to remain anonymous because of his position within the force.
The court was told Mr Soodin, from south-east London, said the Sun was "happy to pay for this exclusive".
The officer contacted Mr Soodin again about police searches related to serial killer Peter Tobin. He received no payment on that occasion.
Jurors were told Bowes, 31, had already pleaded guilty to misconduct in a public office.
After more than seven hours of deliberation, the 10 women and two men on the jury could not reach a verdict on which 10 of them agreed.
Trial judge Gerald Gordon formally discharged the jurors and continued Mr Soodin's unconditional bail while he awaits a retrial.