Poker star Phil Ivey 'did not cheat' to win £7m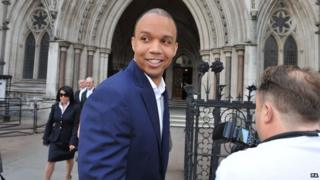 A star poker player has defended a practice he used to win millions of pounds from a London casino after it refused to pay out the money.
Crockfords casino accuses Phil Ivey of cheating by using the "edge-sorting technique" in card game punto banco.
Mr Ivey, considered one of the best poker players in the world, is suing the Mayfair casino for £7.7m, saying the technique is lawful.
He told the High Court in London: "I would never cheat in a casino."
Edge-sorting involves studying cards for imperfections.
The 38-year-old American played punto banco - a form of the card game baccarat - over two days in August 2012.
He was told his winnings would be wired to him, but they never arrived. His stake of £1m was returned.
Legitimate strategy?
The club argues the use of edge-sorting is not a legitimate strategy.
Genting Casinos UK, which owns Crockfords, says Mr Ivey's conduct defeated the premise of the game, meaning there was no gaming contract.
But he told the court the strategy was legitimate.
Mr Ivey said: "I consider that I would not be doing my job very well if I did not seek to use to my benefit weaknesses that I identify in the way that casinos set up or offer particular casino games.
"I use a variety of strategies whilst playing in casinos. No system is fail-safe and each time I play I risk failing to execute the strategy properly - some of these are very complex or difficult to execute - which usually results in me losing a lot of money.
'Unjustly treated'
"I consider all the strategies I use to be lawful and I would never cheat in a casino. It is not in my nature to cheat and nor would I risk my reputation by acting unlawfully in any manner."
Mr Justice Mitting, who is hearing the case, has been told by Mr Ivey's counsel, Richard Spearman QC, that the casino's case was "plainly unsustainable".
He said edge-sorting involves nothing more than using information available to any player from watching the backs of the cards and making requests on the manner in which play is conducted.
Mr Ivey added: "We observe the unwritten doctrine: how do I find a legal way to beat the house? Any method that could amount to cheating would breach the doctrine and cause you to be ostracised by your fellow players - we are all very careful to stay the right side of the line and we discuss advantage play strategies at length."
'Substantial winnings'
He said he was angry when the casino refused to pay out. He told the judge: "I am highly successful in my job as a poker player and professional gambler and I would never do anything to risk my reputation.
"My integrity is infinitely more important to me than a big win, which is why I have brought these proceedings to demonstrate that I have been unjustly treated."
Mr Ivey also told the court he had used the technique in Australia and the United States with friend Cheung Yin Sun, who had introduced him to the strategy in 2012 and who he calls by her English name "Kelly".
He said: "We won substantial sums of money doing so and we also lost substantial sums along the way when we got the strategy wrong or were not able to execute the sorts because of effective casino game protection methods.
"At all times when edge-sorting, I considered that Kelly and I were playing lawfully and it never occurred to me that edge sorting could ever be viewed as an unlawful strategy. I continue to believe that it is lawful."
The case is expected to finish next week.