Lord Prescott: Timid Labour must go all out for the win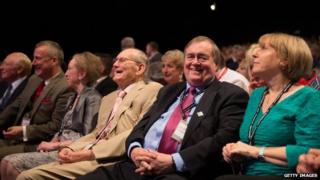 Labour leader Ed Miliband has been urged to go "all out for the win" in the 2015 election amid criticism from senior figures from his own party.
Labour peer Lord Prescott said Mr Miliband "might as well" have ended his party conference speech last month by saying "prepare for coalition".
Writing in the Sunday Mirror, Lord Prescott said Labour was "too timid".
Meanwhile Lord Noon said the party must "buck up" and Lord Levy said Labour must be more "friendly to business".
Lord Prescott said last week's Conservative conference featured "a confident leader and policies galore" - while Labour's promises were "one-line objectives, not detailed policies".
"I can understand keeping policies until the election begins but time is running out," he said.
He said David Cameron's pledge to cut income tax was a "belter" - but added that he "won't deliver" it.
Lord Prescott said the party conference in Manchester was a major opportunity to explain Labour's policies to the public.
"But bar a mansion tax to fund an increase in NHS funding and raising the minimum wage to £8 an hour by 2020, nothing sticks in my mind," he said.
"I do remember Ed Balls saying he would freeze child benefit but I can't see many people racing to the polling booths for that."
Ending his column, Lord Prescott wrote: "So come on Ed. Ditch the pollsters, the focus groups and US-style politics. Be bold, be brave and let's go all out for the win."
'Hopeless and desperate'
Mr Balls replied to those comments on the Murnaghan programme on Sky News, saying: "John says he wants clear policies that will make a difference. Minimum wage to £8, a mansion tax to help get 20,000 nurses in the NHS, a 10p starting rate of tax.
"But the lesson we learned before 1997 is that if you come along with policies that can't be paid for then you get into trouble.
"Everything in 1997 was costed and paid for, everything in 2015 will be costed and paid for.
"No spending requiring more borrowing. The people who are making unfunded commitments are now the Tories."
Lord Noon, a major Labour donor, is quoted in the Sunday Times saying Labour must "buck up" and dismissing plans for a mansion tax on homes worth more than £2m as "hopeless and desperate".
Lord Levy, Labour's chief fundraiser under Tony Blair, agreed, telling the newspaper the mansion tax was "totally inappropriate".
"Do I believe that the party needs to be more close and friendly to business? Yes, I do," he said.