Hong Kong protests 'won't change things' - Lord Powell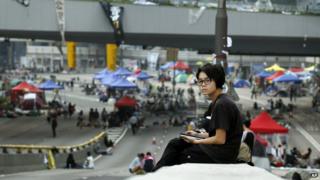 A former adviser to Margaret Thatcher has said pro-democracy protesters in Hong Kong are "unrealistic" and should enjoy the freedoms they already have.
Lord Powell, private secretary when Britain agreed to return the territory to China, said political rights in Hong Kong were always going to be limited.
Demonstrators took to the streets two weeks ago angry at China's plans to vet election candidates in 2017.
Hong Kong's leader has urged them to end their action before Monday.
CY Leung has warned that police would ensure government offices and schools could reopen after the weekend.
'That's life'
The protesters are demanding that the central government in Beijing allow Hong Kong to hold fully free elections in the next vote for the region's leader.
But speaking to BBC Radio 4's The World This Weekend, Lord Powell said: "People have the right to peaceful protest and by and large the protests have been peaceful. But they're also unrealistic.
"The position about elections has been clear since the law was published in 1991 and I don't believe for one moment the Chinese are going to change that basic position.
Asked about the protests he said: "It's a pity there is perhaps this small black cloud there but that's life. It has been there a long time and I don't believe it's going to change."
The cross-bench peer advised Mrs Thatcher between 1983 and 1991.
He is now a director of property developers Hong Kong Land Holdings, and chairman of the UK government's Asia Task Force.
China and the UK signed a joint declaration to return Hong Kong under the so-called "one country, two systems" formula in 1997.
It was agreed the territory would retain its capitalist economy but would become part of communist China.
'Moral responsibility'
"Hong Kong has always been part of China," Lord Powell added.
"We rented it for a while and we didn't introduce democracy... and one reason we didn't is because we knew it was eventually going back to China and it would have been far worse to introduce full democracy and then taken it away from them."
But Anson Chan, former chief secretary of the Hong Kong government, criticised what she says is the UK's "silence - or its weak words" on the protests.
Writing in the Guardian, Ms Chan said Britain had "a moral and legal responsibility to Hong Kong".
She said the 1984 joint declaration "guaranteed Hong Kong's core values and way of life, including freedom of speech and assembly, until 2047".
"The truth is that money talks," she wrote.
"Talk to British business people and their first instinct is to keep their heads low; they just want things to carry on as before, would like the protests to disappear, and maintain good relations with China.
"The view from the British government is not much different."
Ms Chan was deputy to Lord Patten, the last British governor of Hong Kong, who this week said democracy measures put in place by the UK before the 1997 handover had been "snatched away".