Lib Dem conference: Looser coalition on the cards?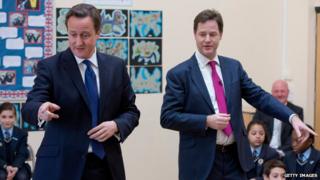 Liberal Democrats are cheering themselves up by being rude about the Tories.
Languishing in single figures in the polls, they want credit for government achievements.
But they are fighting hard to highlight their political differences before the election.
Some backbenchers want those differences hard-written into a new coalition.
One regular rebel, Andrew George, suggests government parties should be able to vote against each other if the Lib Dems are in coalition again after the election.
'Say for everyone'
In a paper shared with Radio 4's the World This Weekend, he says issues on which the partners could not agree should be put to a vote in the House of Commons.
He said: "It means that every time there is an issue of potential contention between the two political parties - where they haven't straitjacketed a solution in advance - that everyone has a say."
There is a precedent, he argues, in a vote on his private members bill to overturn changes to housing benefit. Then, Tories and Lib Dems voted different ways.
David Cameron and Nick Clegg also made statements contradicting each other in the House of Commons after the Leveson Inquiry.
Tories and Lib Dems often disagree in public - particularly during party conference season.
Backbench influence
But they typically achieve a compromise before going to the House of Commons.
Mr George suggests that in a new coalition, these arguments could be resolved by votes of MPs.
Alternative versions of motions should be presented to the Commons, he says.
The move could give backbenchers, and opposition politicians, much more influence.
Other Lib Dem MPs sympathise with the idea that a new coalition should be negotiated on different terms.
The Eastleigh MP Mike Thornton said: "If sometimes we disagree and act in different ways people should just shrug their shoulders and say that's what politics is all about."
Another MP told the BBC the party was naïve in 2010, did not know what it was doing, and paid dearly over plans to increase tuition fees in England.
But the idea would be resisted by those who argue a rigid agreement is essential for a stable government that can make clear promises to the voters.
'Not naïve'
The Lib Dem education minister David Laws said: "I don't think we were naïve. We negotiated a huge proportion of our manifesto into the coalition agreement."
He said most Lib Dem MPs would not favour a looser coalition.
The idea of agreeing to support Conservatives only in confidence and budget votes was rejected in 2010 as the Lib Dems would have little power.
Lib Dem MPs voted to approve the coalition in 2010.
Conservative MPs did not get a similar opportunity but are expected to press for the chance if another coalition is formed after the general election.