Police told to detail snooping into journalists' sources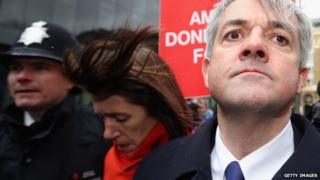 The Interception of Communications Commissioner has ordered police forces to reveal their use of snooping powers to identify journalists' sources.
The order forms part of an inquiry by commissioner Sir Paul Kennedy into potential misuse of the Regulation of Investigatory Powers Act (Ripa).
He said he wanted to "develop clarity".
It comes after it was reported that police secretly obtained phone records of a journalist investigating the Chris Huhne speeding points scandal.
The Mail on Sunday reported that officers had got hold of the phone records of the journalist and identified one of his sources for the story - despite a judge agreeing the source could remain confidential.
The former Cabinet minister and his ex-wife, economist Vicky Pryce, were both jailed for eight months in March 2013 after it emerged she had taken speeding points on his behalf a decade earlier, while they were married.
Launching the inquiry, Sir Paul said: "I fully understand and share the concerns raised about the protection of journalistic sources so as to enable a free press."
He added: "My office will undertake a full inquiry into these matters and report our findings to the prime minister and publicly, so as to develop clarity in relation to the scope and compliance of this activity."
David Cameron's official spokesman said the prime minister thought it "right that you have the oversight mechanisms that are in place".
"There is the ability for the commissioner to look at that if they have concerns and it is right that they should be able to do that, and it's right that they are independent and best placed to consider that."
He said the prime minister "thinks that strong and robust investigative journalism is absolutely essential", adding: "He is a strong supporter of the British media's long, proud tradition of that type of journalism."