Ex-DJ Ray Teret 'raped girl with Jimmy Savile'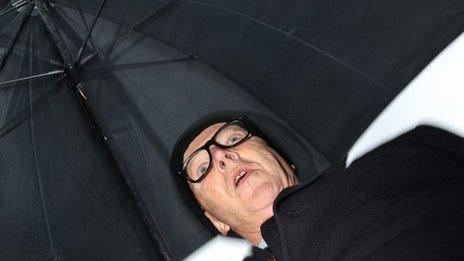 A former radio DJ raped a 15-year-old girl "acting together" with Jimmy Savile, a court has been told.
Ray Teret, 72, from Altrincham, Greater Manchester, was a flatmate of Savile's and worked for him as his chauffeur.
Mr Teret is facing more than 30 charges of sex abuse dating to the 1960s, including 18 counts of rape, all of which he denies.
He is on trial with two other men, William Harper and Alan Ledger, who also deny the charges against them.
The two defendants were described at Manchester Minshull Street Crown Court as "friends and associates" of Mr Teret.
Mr Teret had worked as a DJ for pirate station Radio Caroline and Piccadilly Radio in Manchester.
The charges against him include rape, attempted rape and indecent assault.
The prosecution told the court he had enjoyed a "deal of celebrity" in the 1960s and 1970s, especially in the Manchester area.
Prosecution lawyer Tim Evans said: "The Crown's case in a nutshell is that he used the celebrity that he had to abuse young girls in various ways and that the other two defendants - Mr Ledger and Mr Harper - friends and associates of Teret - also became involved on occasions."
Mr Evans said the alleged rape of a 15-year-old girl, committed between 1963 and 1964, was perpetrated by Mr Teret and Savile acting together.
Mr Teret had taken the "naive teenager" to a flat in Manchester, where she met Savile, the court heard.
"She couldn't believe it when she saw Jimmy Savile, who was famous even then, and couldn't wait to tell her friends who she'd met," Mr Evans said.
But then, he said, Savile put his hands up her skirt, pushed her down on to a bed and raped her.
Mr Teret, the prosecution alleges, then also raped her. Afterwards, Mr Evans said he told her: "You should be thanking us."
Mr Evans had earlier warned the jury that "the spectre of Savile" should not cloud their judgment of the three men on trial.
He said: "This is not guilt by association and that sort of notion plays no part in this trial."
And he added that what he called "so-called celebrity trials" had no bearing on this case.
The prosecution asked the jurors to consider the case involving Savile alongside what they will allege happened to other girls.