Charity launches age discrimination challenge against MoD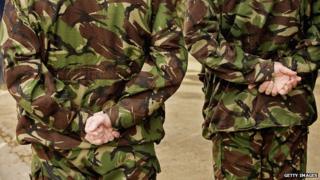 A charity is taking legal action against the Ministry of Defence (MoD), claiming it discriminates against young soldiers who enlist aged 16 or 17.
Child Soldiers International (CSI) wants a judicial review of the system which requires minors to complete up to six years' service before leaving.
It says it is "unethical" and "unfair" that adult soldiers only have to serve for four years before dropping out.
The MoD says it is "stunned" the charity is taking legal action.
In the past 10 years more than 35,000 minors have joined the Army, a third of which left before completing their training.
Only 1.3% of serving soldiers are currently aged under 18, MoD figures show.
Army recruits aged 16 and 17 require parental consent before joining and can drop out before turning 18.
For those soldiers who do not quit within this time, they have an obligation to serve until they reach the age of 22, although they may be discharged at the discretion of their commanding officer.
All those aged under 18 serving in the Royal Navy, Royal Air Force or Royal Marines can leave before they become an adult.
---
Case study - anonymous soldier
"I don't believe there is any point in joining the army at the age of 16 - your early years don't count until you're 18 - you can't go on an operational tour until you're 18 years old.
"I also believe there is a real maturity issue. I feel that those who join at 16 are almost caught up in this romantic idealism about joining the army.
"However, it's not quite like that. I joined at 19 and I didn't really know what I was joining then."
---
CSI, which aims to end military recruitment of anybody under 18, is putting forward its claim for a judge-led review at the Royal Courts of Justice.
The charity says it is a waste of money training minors, claiming it costs twice as much.
'Unlawful'
Richard Clarke, director of CSI, said: "There is overwhelming public support in this country for a minimum enlistment age of 18.
"But whatever you think the right age is for joining the Army, nobody can justify forcing the youngest recruits to serve for longer than their adult counterparts.
"It's unfair, unnecessary and - we believe - unlawful. We think it is highly unethical for the MoD to exploit young recruits in this way."
Defence Minister Julian Brazier said: "A career in the armed forces provides young people with a wealth of benefits and opportunities, equipping them with valuable and transferable skills for life, so it is encouraging that young people continue to recognise this and are coming forward to serve their country.
"We have established procedures in place to ensure that no one under 18 may join our armed forces without the formal written consent of their parent or guardian and no one under 18 can deploy on operations."