UK air strikes against IS in Syria 'not ruled out'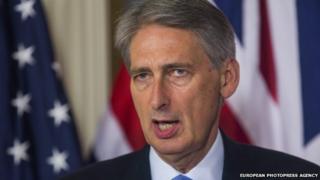 The UK has "not ruled out" participating in air strikes against Islamic State (IS) in Syria, and would consider it if the US requested assistance, the foreign secretary says.
But Philip Hammond said the UK would need further parliamentary approval in order to target IS in Syria.
Last month MPs voted to authorise RAF air strikes against IS in Iraq, at the invitation of the Iraqi government.
IS has seized large parts of both Iraq and Syria, up to the Turkish border.
The UK is among more than 40 nations that have joined forces to challenge the extremist group.
Countries including the US have taken part in air strikes against IS positions in Syria, but the UK military effort has so far been confined to Iraq.
'Playing a role'
Speaking in Washington with US Secretary of State John Kerry, Mr Hammond, said: "We absolutely have not ruled out playing a role in Syria.
"We would see this as a military question - is there a militarily useful role that UK assets could play?
"If US Central Command (Centcom) see a specific role for UK military assets I am sure that they will not be slow in requesting them."
In response to Mr Hammond's comments Mr Kerry said: "There is no question that we are very happy to have our friend and ally Great Britain as part of this - there's all kinds of things that we can do together in this endeavour."
He added that he was "deeply concerned" about the situation in the Syrian town of Kobane, close to the Turkish border, where IS forces are continuing to fight, and from where 160,000 Syrians are estimated to have fled.
The UK-based monitoring group, the Syrian Observatory for Human Rights, has said that IS have already crossed into a southern district of Kobane, and taken over many buildings.
The Turkish parliament has suggested creating a "buffer zone" along the border inside Syria where refugees fleeing the fighting could be protected.
On this topic Mr Hammond said: "We would have to explore with other allies and partners what is meant by a buffer zone, how such a concept would work - but I certainly wouldn't want to rule it out at this stage."
IS has declared a so-called caliphate in the areas it has taken.
The militants have released a number of videos purporting to show the beheading of Western hostages, including most recently the murder of Salford taxi driver Alan Henning.