Michael Fallon calls on Turkey to join IS fight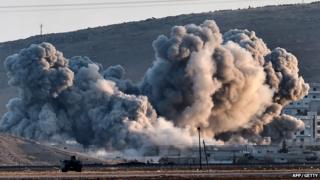 Defence Secretary Michael Fallon has called on Turkey to become more involved in the battle against Islamic State (IS) extremists.
Fighting has been raging in the Syria-Turkey border town of Kobane, with at least 400 killed in recent weeks.
Mr Fallon told the BBC the government believes Parliament would not currently approve expanding air strikes to Syria.
Foreign Secretary Philip Hammond has warned air strikes alone will not prevent Kobane being seized.
'Danger to whole region'
Seizing Kobane would give the jihadists full control of a long stretch of the Syrian-Turkish border.
There are reports IS fighters could already control more than a third of the town.
Turkey's foreign minister has said the country cannot be expected to lead a ground operation against IS on its own.
Mevlut Cavusoglu also called for the creation of a no-fly zone over its border with Syria.
"Turkey certainly could help," Mr Fallon told Radio 4's Today programme. "It is a matter for Turkey.
"This is a situation that can only be resolved not just by America and by Britain, but by the region itself.
"So we certainly would like to see Turkey more involved. But in the end it's a decision for their government."
He warned there could be serious consequences for the Middle East without widespread support from other countries in the area in the fight against IS, also known as Isis or Isil.
"Clearly, every country in the region has got to see now what it can do to contribute to dealing with Isil, otherwise we will have Iraq falling apart and Syria falling apart, and that is a danger to the whole region," said Mr Fallon.
Turkey has come under intense pressure to do more to help Kurdish forces in Kobane.
Kurds are angry that Turkey has prevented Kurdish fighters crossing the border to fight IS in Kobane and some protesters want it to take military action against IS.
A Kurdish leader in Kobane said IS entered two more districts overnight on Wednesday, bringing in heavy weapons.
Three weeks of fighting over Kobane has cost the lives of at least 400 people, and forced more than 160,000 Syrians to flee across the border to Turkey.
'Strong regional coalition'
The UK has been carrying out air strikes against IS forces in Iraq following a parliamentary vote, but Mr Fallon said he did not believe authority would be given for such action in Syria.
"Isil can only be defeated in both countries," he said. "Clearly, if we take a decision that there is a significant contribution we can be making in Syria, and that it's lawful, we would go to Parliament and ask for that authority.
"But we haven't taken that decision. And, at the moment, we judge that Parliament wouldn't give us that authority."
The US envoy, retired general John Allen, is currently in Turkey for talks with the country's government and is expected to discuss the calls for a "buffer zone" supported by a no-fly zone.
Mr Fallon said: "It is something certainly that we will look at. We have had successful no-fly zones in the past, we have the air power to police it."
He added that the fight against IS "involves the whole international community - and that includes Britain".
"We have already seen acts of terrorism on our streets and we have a large number of people who have gone across there to fight who may return to commit acts of terrorism at home," he said.
"So we are all involved in this. But I wholly accept that it has got to be done by as strong a regional coalition as possible."
Meanwhile, Mr Hammond said that it was "never envisaged" that the use of air power "in this battle would turn the tide in the short-term".
"I don't want to suggest that there is anything readily that the coalition can do that will make a fundamental difference... in the tactical situation that's faced around Kobane," he said.