Country roads '11 times more deadly than motorways'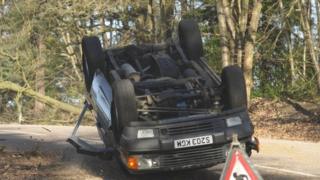 Eleven times more people die on country roads in England and Wales than on motorways, figures released by the Department for Transport (DfT) show.
The DfT found there were an average three deaths on rural roads a day.
According to the figures, there were 1,070 deaths on country roads last year compared with 100 deaths on motorways. In total, 1,713 died on the roads in England and Wales in 2013.
The government road safety campaign, Think, warned of "complacency".
Unforeseen hazards
It has created an online advertisement to display how country roads can be full of unforeseen hazards.
The DfT defines country or rural roads as any road outside of urban settlements - places with a population of 10,000 or more - and with a speed limit.
Liz Brooker, the road safety expert leading the campaign, told BBC News: "I think that we can become a little bit complacent on the roads that we know.
"The advice is to brake before you hit a bend so that you can control yourself and anticipate what you can't see."
The campaign is backed by British touring car champion James Cole, who says being a responsible driver is critical on country roads.
He said: "When I was 11 I was involved in a road accident, I was hit outside my school by a car and was off school for almost a year.
"To then become a racing driver, I felt it was my role to give something back and hopefully stop people from going through the experiences I went through."
The research also revealed that 34% of 1,500 drivers have admitted taking a bend too fast.
David and Janet Warins, whose son died after crashing into a tree on a country road three weeks after passing his driving test, are calling for the national speed limit on rural roads to be brought down from 60mph to 50mph.
Mrs Warins told BBC Radio 5 live: "You take as many lessons as you require and need to pass your driving test but then the learning begins because you do not have the experience on the other roads that are, in my opinion, more dangerous than the roads in the towns and cities."