Terrorism arrests: Fifth man held over 'plan to attack UK'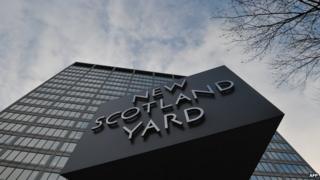 A fifth man has been arrested in relation to a possible terrorism plot, Scotland Yard has said.
Four men were held on Tuesday and government officials said the arrests "may have foiled the early stages" of plans for an attack in the UK.
Police have now said a fifth man was also arrested on Tuesday, but his arrest was not made public for "operational reasons".
"A number" of homes and vehicles had been searched by officers, police said.
In a statement, Scotland Yard said the fifth man had been arrested on suspicion of being concerned in the commission, preparation or instigation of acts of terrorism.
The five men, aged 20 and 21, are all UK nationals.
They are all in custody at central London police stations and a warrant for further detention has been granted until Tuesday, police said.
Details of the allegations have not been released, but on Tuesday police said one of the men arrested had spent time in Syria - where about 500 UK nationals are believed to have gone to join Islamist militant groups in recent months.
Also speaking on Tuesday, Metropolitan Police Commissioner Sir Bernard Hogan-Howe said the arrests were related to "a quite serious case" and were among a "series" of arrests in recent weeks.
He said the "drumbeat around terrorism" had changed, adding: "It's a more intense drumbeat.
"We're having to be more interventionist and a lot of it is linked back to Syria and Iraq."