Police officers warned of 'heightened' terrorism threat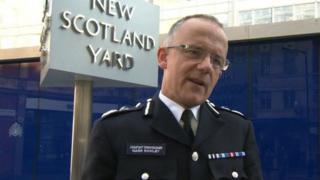 Police officers are being warned of a "heightened" risk to their safety from terrorists.
The senior officer in charge of anti-terrorism said officers are being reminded to "remain vigilant".
In August ministers raised threat level in the UK from substantial to severe, meaning an attack is "highly likely".
Five men were arrested on Tuesday on terror charges, and Whitehall officials said the arrests "may have foiled the early stages" of plans for a UK attack.
The men, aged 20 and 21, are all UK nationals and are being held at central London police stations.
'No major changes'
Met Police Assistant Commissioner Mark Rowley, national policing lead for counter-terrorism, said officers faced danger on a "daily basis" and were well trained.
But he added: "We are informing our officers and staff of the heightened risk and reminding them to remain vigilant and alert to any possible dangers.
"We are asking them to follow existing policies and good practice.
"Measures are being put in place to increase the vigilance of officers and staff."
No further details were given on what these measures are, but Mr Rowley said the public would "see no major changes in the way we continue to police the UK and engage with our communities".