Geoffrey Robertson QC criticises arrests over alleged sex crimes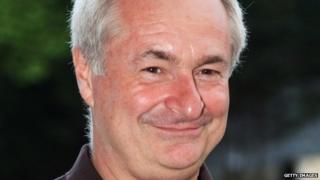 Police are arresting suspects of alleged historical sex crimes without sufficient evidence and keeping them on bail too long, a barrister has said.
Geoffrey Robertson QC said if a charge could not be made within three months the case should be dropped.
His comments come after no further action was taken against Paul Gambaccini over historical sex claims.
The Association of Chief Police Officers said victims were "squarely" the focus of inquiries into sex abuse.
Mr Gambaccini, a BBC broadcaster, was held at a south London address in October last year as part of the Metropolitan Police's Operation Yewtree investigation, and remained on bail for 12 months.
The Crown Prosecution Service (CPS) said the inquiry followed claims of sex offences against two teenage boys in the early 1980s.
'Unnecessary and unlawful'
But he was told on Friday that no further action would be brought against him, and Mr Gambaccini described the ordeal as "12 months of trauma".
Human rights lawyer Mr Robertson told the BBC's Radio 4 Today programme that Mr Gambaccini's case was not unique.
He said: "It's a lot of people who are being arrested prematurely, who are being kept on police bail for a year, two years.
"These arrests are completely unnecessary and unlawful. Several of them [the suspects] have committed suicide because of the torment and stress."
Suspects should only be arrested when there is a "reasonable suspicion", he said.
He added that when someone is arrested and later publicly "named and shamed" the "presumption of innocence is turned on its head".
"There has to be some cut off point, because we are seeing people being held for one year or two years, brought into police stations and humiliated every few months, and that is not satisfactory.
"If they can't charge within three months they [the police] have either got to go to a judge and get permission, or drop the case," he said.
'Achieving justice'
But Assistant Commissioner Martin Hewitt, who is the national policing lead for adult sexual offences, said police had made real changes to the way rape and sexual abuse was dealt with.
"Our focus is now squarely on the victim," he said.
"We have seen tangible improvements in both practice, and in the results that we are achieving.
"More victims than ever have the confidence to come forward and report, and more than ever are achieving justice in the courts."
He added that sexual offences were among the most complex crimes to investigate, particularly if the alleged offence took place many years ago.
In total, 17 men have been questioned by police since Operation Yewtree was set up in the aftermath of abuse allegations against the late BBC DJ and entertainer Jimmy Savile.
Comedians Jim Davidson and Freddie Starr are among 10 men who have been told they will face no further action as part of the operation.
There have been three convictions - entertainer Rolf Harris, publicist Max Clifford and DJ Dave Lee Travis.
Driver David Smith was charged, but died before his case came to court and another man, aged 73, remains on bail following his arrest in April. Two Crown Court trials are yet to take place.