NHS staff strike: 'Robust' plans to counter action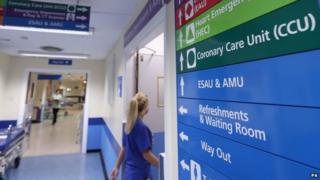 "Robust plans" are in place ahead of the first strike by NHS staff over pay in more than 30 years, England's chief nursing officer has said.
Jane Cummings said patient safety was a priority, but urged staff to "think carefully" about taking part on Monday.
Nurses, midwives and ambulance staff are among workers from six unions in England and Northern Ireland set to walk out from 07:00 BST until 11:00.
Unison said it would send a "clear message" to the government on pay.
The action is mainly taking place in England but members of the GMB and Unite unions in Northern Ireland are involved.
Unions want a 1% pay rise to be implemented for all staff but the NHS has said this will cost too much.
'Bear with us'
Services could be disrupted although urgent and emergency care - including maternity units - are not being targeted.
The strike is intended to disrupt more routine areas of care, which could result in patient transport services not running and antenatal and postnatal clinics being cancelled.
Doctors and dentists are not involved, and these services are expected to run as normal.
Ms Cummings appealed to staff taking part in the strike to think about their patients.
"They do the job which is hard, they work very hard and they put the safety of patients first," she told the BBC.
"So I would say to staff, I know that you are professional, I know that you will think very carefully about any action you take tomorrow."
She warned Monday could be busier than usual because of the strike.
But added: "I would say to members of the public, bear with us. We have got very robust plans in place."
'Life and limb cover'
The unions taking part have more than 400,000 members in the NHS in England out of 1.3 million staff.
However, not all of them will be involved because some will continue to provide what the unions have called "life and limb cover".
The walkout will be followed by four days of work-to-rule from Tuesday.
The unions involved include:
Royal College of Midwives (RCM)
Unison
Unite
GMB
Union of Construction, Allied Trades and Technicians (UCATT)
British Association of Occupational Therapists (BAOT)
Christina McAnea, head of health for Unison - the biggest health union taking part - said it was the first time workers had taken industrial action over pay in 32 years.
"The fact that so many unions representing a range of NHS workers are taking action or preparing to join future actions should send a clear message to the government," she said.
"The NHS relies on the good will of its workers but we know that a demotivated workforce is bad for patients. The government needs to start negotiating with us and reconsider their pay policy."
The RCM is taking action for the first time in its history but said services for women giving birth would not be affected.
Jon Skewes, RCM director of employment relations, said a 1% pay increase for all staff was "not unrealistic", adding the current settlement meant a pay cut for many members.
"Just recently a report said that in London alone the health service was wasting about £384m a year on agency staff," he said.
"There are ways of getting around that kind of waste - and one of the ways of doing that is to treat the existing staff in the NHS fairly."
Welsh ballot
Health workers voted in favour of a strike over pay last month.
The government has given NHS staff a 1% pay rise, but not for those who get automatic progression-in-the-job rises.
Those increases are given to about half of staff and are worth 3% a year on average.
The decision by ministers went against the recommendation of the independent pay review board, which called for an across-the-board rise.
In Scotland, a 1% pay rise was given to everyone, while no decision has been made in Northern Ireland.
In Wales, ministers offered the same to staff as was on offer in England, although extra was set aside for the lowest paid. Some unions have started balloting their Welsh members about industrial action.