More people trafficked for labour than sex trade, says report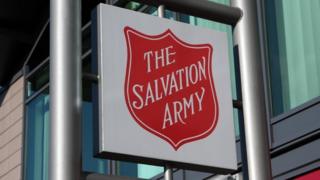 More than 1,800 victims of human trafficking in England and Wales have received support from the Salvation Army since 2011, the charity has said.
It said 42% of cases last year involved forced labour, 38% sexual exploitation and 10% domestic servitude.
Forced labour cases grew at a faster rate last year than sexual exploitation for the first time, the charity said.
Ministers plan to force large firms to annually declare the action they take to keep supply chains slavery-free.
The measure is included in the Modern Slavery Bill, which is currently going through Parliament.
The Salvation Army won a government contract in 2011 to support trafficked people.
In a report, the charity said it had helped 540 women and 347 men between July 2012 and June 2014.
Anne Read, from the Salvation Army, said it was "deeply saddened" by the figures.
"Each individual story represents the life of someone who has had their trust broken, their liberty denied and who, in most cases, has been subjected to appalling treatment at the hands of their traffickers," she said.
However, she praised authorities' renewed focus on the problem and the "collaborative working relationships across sectors".
BBC home affairs correspondent June Kelly said criminal gangs had turned trafficking into a "global growth industry".
She said the "secret nature" of the industry meant the number of victims could "never be known".
Many male victims who sought help last year had come from Eastern Europe, with 50 coming from Hungary, 48 from Romania and 47 from Lithuania, the Salvation Army said.
Of the forced labour cases it has been involved in, almost 80% involved men. Our correspondent said the Salvation Army believed "male pride and a sense of shame" might have stopped some men from previously seeking help.
'The right thing'
The highest number of female victims (140) had come from Albania, followed by women from Nigeria (91).
Some 29 cases involved UK citizens last year, while London, England's south and south-east, and Yorkshire had high proportions of referrals.
Home Office Minister Karen Bradley said the figures underlined the need for action and said businesses must "play their part".
"Greater transparency will give customers, campaigners and shareholders the information they need to hold all big business to account while also supporting companies to do the right thing," she said.
The Salvation Army report comes after the National Crime Agency (NCA) last month said there had been a 22% increase in the number of suspected victims of trafficking between 2012 and 2013.
Investigators said the rise was partly down to better reporting, including an increase in the number of children feared to be victims of sexual exploitation gangs.