Remembrance Sunday: Irish government invited to Cenotaph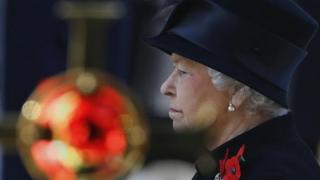 The Irish government has accepted an invitation to lay a wreath at the Cenotaph in London on Remembrance Sunday next month.
The UK government said it recognised "the immense contribution and shared sacrifice" of thousands of Irish people who served in British forces.
The Irish ambassador to the UK, Daniel Mulhall, said he was pleased to accept the invitation.
The Queen will lead the Remembrance Sunday commemorations on 9 November.
'Shared sacrifice'
Sajid Javid, secretary of state for culture, media and sport, said: "Throughout the First World War, Irish servicemen stood side by side with men and women from across Great Britain and the Commonwealth.
"As we commemorate the centenary of the start of the war, it is right we remember our nations' shared sacrifice."
Mr Mulhall said: "I am pleased to accept the invitation of the UK Government to lay a wreath in memory of the 50,000 Irish who died in World War One.
"The invitation arose following the successful reciprocal state visits of recent years and also in the context of other events which have taken place around the First World War, as part of the government's decade of commemorations programme, marking significant centenaries."
Historians have estimated that more than 200,000 Irish-born soldiers served in the British Army and Navy from 1914 to 1918.
Thousands of soldiers also left the country and the Irish army to join British forces during World War Two.
During her historic visit to the Republic of Ireland in 2011, the Queen laid a wreath at the Republic of Ireland's Garden of Remembrance.
In July of this year, the Irish president paid tribute to Irish soldiers who fought in World War One.
Michael D Higgins joined the Duke of Kent and Northern Ireland Secretary of State Theresa Villiers at a commemoration in Dublin.
They dedicated a cross of sacrifice at Glasnevin Cemetery to mark the 100th anniversary of the outbreak of the war.
A military band, made up of musicians from Irish Army and British Army bands, performed at the ceremony.