Terror investigation sees three men arrested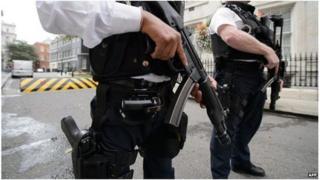 Three men have been arrested in London by police officers investigating possible terrorism offences.
The men, aged 24, 21 and 25, are suspected of being concerned in the commission, preparation or instigation of acts of terrorism.
The men were arrested in central London and are in custody.
A search has taken place at a business in west London and there are searches taking place at four residential addresses in north-west London.
These arrests come after five other men were arrested on Tuesday 7 October. Two of the five were released earlier on Monday.
The other three remain in custody at police stations in central London after magistrates granted a warrant of further detention.
Speaking at the time of last week's arrests, Whitehall officials told the BBC they "may have foiled the early stages" of an Islamist-related plan to attack the UK.