Scam letters crackdown seizes £108,000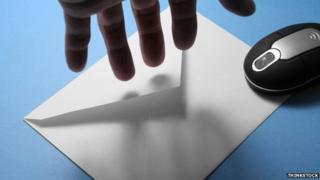 More than £108,000 has been returned to victims of prize draw mail scams following a joint crackdown by National Trading Standards and Royal Mail.
The campaign was launched in June and has so far intercepted and sent back money to over 6,000 people.
Anyone getting their money back will also receive a letter making them aware of the scam.
Around 380,000 people a year in the UK are thought to fall victim to prize draw fraud, costing an estimated £60m.
As part of the operation, local trading standards officers are warning 160,000 known victims of this type of crime.
'Vulnerable targeted'
Prize draw scams typically target the elderly and other vulnerable people, who are less likely to realise that the letter they receive asking for money - and often telling them they have won a competition - is a ruse, National Trading Standards said.
Louise Baxter, head of its scams team, said: "It is often very difficult to persuade vulnerable, often elderly, individuals that letters telling them they have won large sums of money are scams."
Tony Marsh, director of security at Royal Mail said: "We are very pleased to be part of this initiative to protect some of our most vulnerable customers."
People keen to highlight potentially fraudulent mail can write to Royal Mail at Freepost Scam Mail, call 03456 113 413, or email scam.mail@royalmail.com.