Thai murder accused is scapegoat, mother says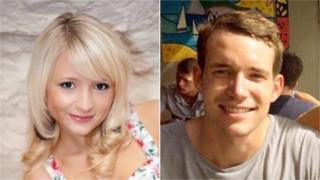 The mother of one of the men accused of killing two British tourists on a Thai island has said her son is being made a "scapegoat" by police.
Zaw Lin and Win Zaw Htun are suspects in the murders of Hannah Witheridge and David Miller, who were murdered on Koh Tao last month.
The suspects' parents told the BBC their sons were innocent, and Mr Zaw's mother said "the case has been fixed".
The Thai police investigation has been widely criticised, including by the UK.
Mr Zaw and Mr Win, who face the death penalty if found guilty, are both migrant workers from Myanmar, also known as Burma.
"The case has been fixed, my son is a scapegoat," Mr Zaw's mother, Phyu Shwe Nu, said.
"He doesn't drink alcohol and has never done anything violent before."
Mr Win's mother, Myint Thein, said she had raised her son in "great hardship" and his life had now been "ruined".
She said her son should tell the police "the truth" - that he was not guilty.
Post-mortem examinations found Mr Miller, 24, from Jersey, died from drowning and a blow to the head, while Miss Witheridge, 23, from Hemsby in Norfolk, died from head wounds.
Mr Zaw and Mr Win appeared in court for a pre-trial witness hearing on the island of Koh Samui on Tuesday, but did not testify.
At that hearing, a plea for the trial to be delayed was rejected. Lawyers argued they had not had enough time with their clients to build a strong defence.
The suspects are charged with conspiracy to murder, conspiracy to rape and robbery.
Police say DNA found on Ms Witheridge matched samples taken from the men.
'Mistakes made'
Concerns about the murder investigation include the fact the crime scene was not sealed off after the killings, and an early statement by police that no Thai person could have committed such a crime.
On Monday, the UK Foreign Office summoned the Thai charge d'affaires to express "concern" how the investigation had been handled.
Thailand's chief of police, General Somyot Poompanmoung, has admitted mistakes were made but said everyone involved in the case had worked to the best of their ability.
BBC Myanmar correspondent Jonah Fisher said: "The Thai authorities may have thought that by charging two poor Burmese men with murder this case would quickly disappear from public view.
"If that's the case they were wrong."
---
Koh Tao
Small island covering 21 sq km north of Koh Samui and Koh Phangan in Gulf of Thailand
Population of about 2,100 and visited by between 400,000 and 500,000 travellers per year
Popular with backpackers and divers
Quieter and less developed than neighbouring islands which are known for nightlife and beach parties
---