Pay protests: Among the marchers calling for wage rises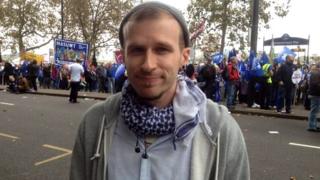 Of the thousands of people marching in London, calling for pay increases for public sector workers, Chris McShee is a rare breed.
A care manager who works in Brent with children who have special educational needs, he had a promotion and a pay rise five months ago.
But he still feels strongly enough about his sector's pay to come on the march, organised by the Trades Union Congress with the slogan of Britain Needs A Pay Rise.
"In material wealth I'm fine," he says. "But I'm 31, living with my parents in Greenwich and I don't know when I can afford to buy a house.
"I know public sector workers who are privately renting or living with their parents in their thirties. They can't get on the property ladder."
Chris says he is concerned about when he'll ever be able to afford more than a "garden shed in Kent" and says real wealth these days is reflected by "the transference from what you earn to what you won, your property portfolio".
He calls for a fundamental change, allowing councils to build more homes and, in particular, renovate derelict buildings.
Lollipop lady
Behind Chris, a long line of flag-wavers, trumpet-blowers and placard-carriers troop their way along the side of the Thames, heading for the heart of the capital.
There are representatives from all around the country, from Dorset, Stoke-on-Trent, Newcastle, and Stockport, to name just a few.
Irene Holland, 65, was waiting with her daughter Fiona, 42, for the march to start shuffling along. Irene is semi-retired and works as a crossing guard, a job more fondly known as lollipop lady.
Fiona is an administrator at Lancashire County Council, saying she was once in a team of 13 but now, after many cutbacks, she is one of only three.
Both live in Nelson, East Lancashire and Fiona says austerity has visibly affected the people of the town.
"You can see the faces of the people there, they're down and miserable.
"Shops are closing and people can't afford to shop in medium-priced stores any more. I used to shop in Sainsbury's - now I shop in Aldi.
"Public sector workers aren't getting enough to pay for food, they're having to ask for help and queue for food banks and are not making ends meet."
Irene says she hasn't had a holiday in the past four years and has to shop for food that's "the cheapest, not the most nourishing".
Among all those kicking up a din along the march, using sound systems, brass bands and even the odd vuvuzela, the Public and Commercial Services Union's members were the most memorable.
Their samba-style band and the seemingly synchronised swishing of their yellow flags attracted plenty of attention from passers by. One member of the march had a megaphone and gleefully yelled that "it's like Rio here" as the PCS lot shimmied past him.
Payday loans
Elsewhere, resplendent in a homemade gown and mortarboard is the jovial Keith Nason, 50, who lives in Harrow but works in Barnet as a teacher.
He does say, in a more sombre moment in the conversation, that his colleagues have had financial issues. "I know teachers resorting to taking out payday loans and even not being in pension schemes.
"They're taking a real risk with their futures, but if that's the difference between feeding your family properly then that's what they feel they should do."
Junior doctor Sarah Alhulail, 26, is in full-time study but has practised in Slough and Oxford.
She is on the march, she says, to support NHS nurses, who are her "biggest concern".
"The nurses are understaffed and overstretched. Why treat them that way?
Australia
"MPs have had a 10% pay rise while nurses have had a pay freeze. That's absurd. What have MPs ever done for us?
"I know of many junior doctors and nurses here who are looking at moving to Australia, where they have better pay and better quality of life, get treated better."
Sarah says austerity "is affecting my patients and their lifestyles, so it's affecting me". She calls for a minimum wage of £10 and for the government to "listen to the unions".
"They come up with reports and recommendations that the government just throws away.
"My message for the government is: Talk to your professionals."