Robbery sentences: Gun and knife use 'should be penalised'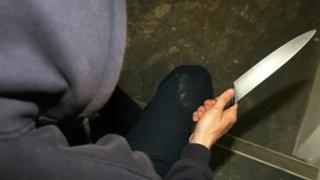 Robbers who use or threaten to use guns and knives during crimes in England and Wales should expect to receive tougher jail sentences, new proposals suggest.
The Sentencing Council, which issues guidance for courts, says the impact on victims meant such crimes should be in the top category for seriousness.
It would mean the most serious offenders would typically be jailed for between seven to 12 years.
But the maximum sentence would remain as life imprisonment.
Currently robberies involving such weapons do not automatically qualify for the harshest sentences.
'Traumatised'
The proposals, which have been published for consultation, describe robbery as a "terrifying experience".
The Sentencing Council said sentence levels must reflect what it described as the "serious social problem" of offenders carrying knives.
The proposals would also expand the existing guidance to allow judges to place crimes such as robberies in people's homes, and professionally planned commercial robberies in the top category of seriousness for sentencing.
"Robbery not only means taking someone's property: it is an intrinsically violent crime. Victims of robbery may have been threatened with violence or actually been assaulted and injured, which means these offences can be a terrifying experience," the council said.
"In addition to any physical injury, victims may suffer other effects which stop them getting on with their lives. They may feel unable to use public transport, walk home from school or go to a local park if that is where they were attacked.
"When an offence happens in the home, a place where someone should feel safe, effects can be profound and long-lasting. In cases where the victim is particularly vulnerable the impact of the offence can be life-changing."
Under the new plans courts would have to take more account of the psychological impact on robbery victims, as well as any physical effects.
Sentencing Council chairman Lord Justice Treacy said: "We are ensuring that the full impact of these offences is at the forefront of judges' considerations about the length of sentence a robber should get.
"Our proposals will give judges comprehensive guidance to help them sentence the great range of offenders who come before them, from a street mugger to gang members responsible for a major heist."
The sentencing council is seeking feedback from the public on the new proposals, and the consultation closes on 23 January 2015.