EU pesticide bans 'could hit UK crops'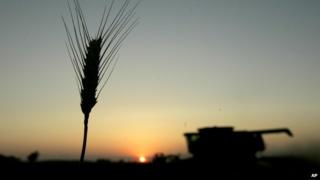 The EU's decision to ban the use of some pesticides could threaten UK crops, increase food prices and hit farmers' profits, a report has claimed.
The report commissioned by three farming bodies said the EU was on course to "ban" use of 40 chemicals by 2020 to reduce environmental damage.
It said this could lead to a surge in pests, affecting production of apples, carrots and peas, among other crops.
Conservation groups said reducing pesticides would help the environment.
The independent report was carried out by business consultants Andersons and jointly commissioned by the National Farmers' Union (NFU), the Crop Protection Association (CPA) and the Agricultural Industries Confederation (AIC).
EU ban
The European Parliament voted in 2009 to tighten rules on pesticide use and ban at least 22 chemicals deemed harmful to human health.
The move banned substances that could cause cancer or harm human reproduction or hormones.
At the time, the UK government, the Conservatives and the NFU all opposed the new rules, saying they could hit yields and increase food prices.
The report said that as current licences lapsed and tighter rules meant they would not be re-approved, some 40 chemicals would be banned within the next decade.
The report claimed the changes would affect:
Potatoes: Many fungicides controlling blight would be banned. Predicted yield loss - 12%
Wheat: Fungicides helping to control rust and mildew would be banned. Predicted yield loss - 12%
Onions: Mildew and a rotting disease called botrytis are currently held back by chemicals likely to be banned. Predicted yield loss - 50%
Apples: Main issue is "scab". The chemical likely to be outlawed holds back skin browning and blemishes, and growers are worried consumers will not buy imperfect-looking fruit
Alongside the impact on crops, the report suggested it could cause a drop in farming profits of £1.7bn, more imports and higher food prices.
Nick von Westenholz, CPA chief executive officer, said the report provided "a clear picture of the implications of the flawed system that governs pesticide use in the EU".
NFU vice-president Guy Smith said EU restrictions were having a "negative impact" on UK food production.
"It is absolutely essential that farmers have regulation that is risk-based and that it follows sound science to ensure the farming sector keeps growing and contributing to the £97bn UK food and drink industry," he said.
"For this to happen we need government at both UK and EU level to put British food production at the heart of policy-making across all government departments."
David Hutchinson, AIC strategy group member, said: "This report highlights the serious effects of policy and regulatory decisions that are not based on sound science."
He said science "often came second", adding: "In the meantime farming and the wider economy of our food industry will continue to suffer and be placed at an ever increasing competitive disadvantage to those countries outside the EU."
'Crying wolf'
A spokesman for the European Commission said the new rules were introduced to "ensure a high level of protection for human and animal health, the environment, whilst safeguarding the competitiveness of EU agriculture".
He said the Commission was carrying out an impact assessment and would consider the findings of the Andersons study.
But he added: "An initial assessment of this study suggests that the predicted losses are overestimated."
Several conservation groups were critical of the report.
Keith Tyrell, of the Pesticide Action Network, said it was "scaremongering nonsense" and farmers were "crying wolf".
He said a bigger threat to apples and other flowering crop yields was the "likelihood" that pesticides were killing pollinators like bees.
Friends of the Earth nature campaigner Paul de Sylva said: "Intensive use of chemicals is harming bees and other wildlife and the quality of out water and soils. That is the real threat to food security."
A spokesperson for the Department for Environment, Food and Rural Affairs (Defra) said: "We agree that pesticides need regulating to ensure people and the environment are protected - but decisions must be based on the real risks so our farmers are not needlessly stopped from using appropriate products to protect their crops.
"That's why we are continuing to press for improvements in the way Europe regulates pesticides and pushing for a standard approach across the European Union."
Some independent commentators on food and farming said pesticides were a "necessary evil" to produce cheap food.
Consumers must decide if some environmental damage was the price they were willing to pay for low bills at the checkout, they said.