Charities funding crime and terror face new crackdown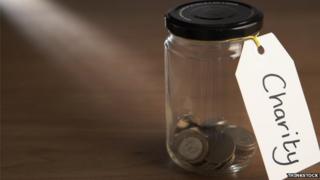 Charities being used to fund crime and terrorism are facing a fresh crackdown after the prime minister announced an £8m boost in funding and extra powers for the charities watchdog.
David Cameron said the move would help the Charity Commission to ensure "money always goes to genuinely good causes".
Under the proposals, the watchdog will be able to freeze charity bank accounts and suspend or remove trustees.
Earlier this year MPs described the regulator "as not fit for purpose".
The watchdog has said it is looking into whether certain organisations used aid convoys to Syria as a front for terror-related activity.
Prevent abuses
Downing Street said the £8m would help the regulator "re-focus its regulatory activity on proactive monitoring and enforcement in the highest risk areas like abuse of charities for terrorist and other criminal purposes, such as tax avoidance and fraud".
It also said the new measures, which have been published in a draft Protection of Charities Bill, would allow the body to:
Enforce an automatic ban on anyone with convictions for certain criminal offences from becoming a trustee of a charity
Issue official warnings in less serious cases
Prevent people resigning to avoid disqualification before returning in another guise
Shut down charities under investigation to protect the public confidence
Mr Cameron's announcement comes ahead of an extremism taskforce meeting which will examine the government's counter-terrorism strategy.
He said: "Today's changes will help make sure that when people donate to charity, their money always goes to genuinely good causes.
"They will help us become a country that stands even taller in the world, and prouder and stronger too."
Charity Commission chairman Sir William Shawcross has previously described Islamic extremism as the "most deadly" threat to charities in England and Wales.
Welcoming the proposals, he said he wanted the changes to go even further and warned that criminals and others would still be able to take up roles as treasurers or finance directors unless disqualification was extended beyond trustees.
He also said he wanted the commission to have the power to direct trustees not to take specific actions in a bid to prevent abuses before they occur.
The commission said the cash would be spent on "technology and frontline operations".
Earlier this year MPs on the public accounts committee criticised the regulator over failures to tackle abuses in the industry.
Karl Wilding, director of public policy at the National Council for Voluntary Organisations, also said the commission's enforcement work had previously "not been as strong as it could be".